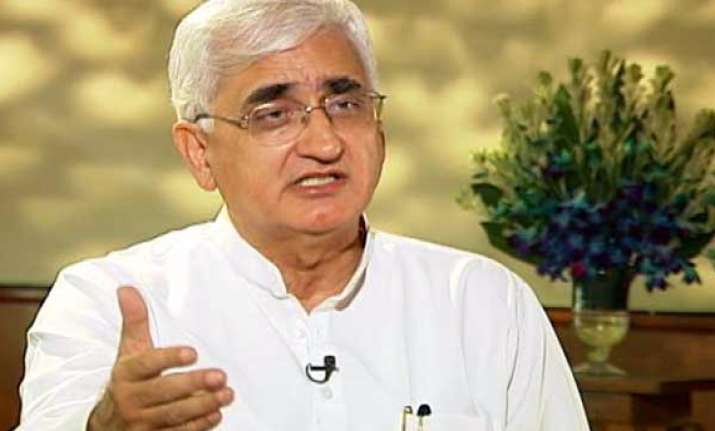 New Delhi, Jun 15: Rejecting allegations of corruption levelled by Team Anna, Law Minister Salman Khurshid has hit back saying it is difficult to concede them the "monopoly of patriotism and honesty" and advised Anna Hazare that there was still time to bring his movement to the "legitimate" path.
In a stinging letter to Anna Hazare, Khurshid, who is among the 13 ministers against whom Team Ann had sought a probe, said there were serious doubts about the activist's colleagues' faith in the judicial system and said government works by rule of law and not by "whims of men no matter how well intentioned" it is.
Alleging that his team has allowed their passions to overwhelm their rational abilities, he said it was "difficult to concede to them a monopoly of patriotism and honesty particularly since there are many questions about their personal and public conduct that remain unanswered.
"I imagine there would be few better examples of people in glass houses should not throw stones," Khurshid said. He said he did the utmost to steer a successful course for Lokpal negotiations "sometimes going beyond my brief" though it was not a favour to Hazare or anyone else but as he sincerely believed that there was a need to nurture new institutions.
"Some of your colleagues are cleverly trying to bring their idea of the Lokpal into existence through this stratagem, bypassing the courts of the land who have done us proud through fearless imposition of accountability.
"Some of us had serious doubts about your colleagues' faith in judicial system and sadly those doubts have been proved to be well founded," he said.
In the letter, he told Hazare that there was still time for him to bring the movement back to its "legitimate path, devoid of personal egos and unwholesome self serving agenda. "To err is human Annaji, but to forgive divine, they say. I would take the liberty to rephrase it thus 'to err is common, to correct sublime. I hope you will agree that intellectual corruption is no less a threat to society than financial corruption. We should fight dishonesty rather than honest differences of opinion," he said.
Khurshid, however, refrained from making any personal attack on him, seeking to make a clear distinction between the activist and his team members.
The Law Minister also gave a point to point rebuttal to the charges levelled against him by Team Anna regarding the allegations about his helping some private companies in the 2G spectrum case by "misusing my official position".
Khurshid said at any stage, there wasn't any occasion for the professional opinion of officials being overruled by him as a Minister in the Reliance-Swan case or Essar-Loop case.
He said he was not writing to convince Hazare but to ensure that the "wild allegations" do not mislead common citizen.