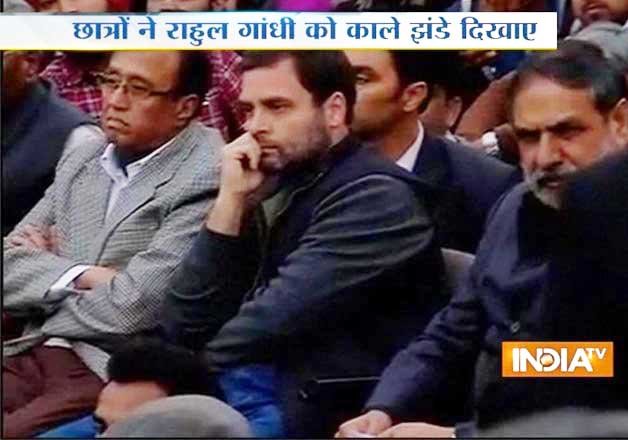 New Delhi: Congress vice president Rahul Gandhi today visited the Jawaharlal Nehru University campus today to extend his support to agitations against the arrest of student leader Kanhaiya Kumar on charges of sedition. Rahul was shown black flags upon his arrival by ABVP members. Slogans of 'Rahul, go back' could also be heard at the venue of the programme in the JNU campus.  
Speaking amid protests, Rahul targetted the government saying terming those who were suppressing the voice of JNU students as anti-national. "What is anti-national? Most anti-national people are those suppressing the voice of students in JNU. A youngster expressed himself and the government says he is an anti-national," he said.
Rahul also invoked the suicide of Dalit scholar Rohith Vemula in Hyderabad. "I was in Hyderabad a few days back and these same people or their leaders said that Rohith Vemula was an anti-national," said Rahul.

Extending support to the students protesting against the arrest of Kanhaiya, Rahul asked the students not to allow the government to bully them. "They do not understand that by crushing you they are making you stronger," he said.
 
Rahul also took note of the protests against him upon his arrival at the varsity's campus. "People who showed black flags on my face, I feel proud that in my country they have the right to show a black flag in front of my face," Rahul said.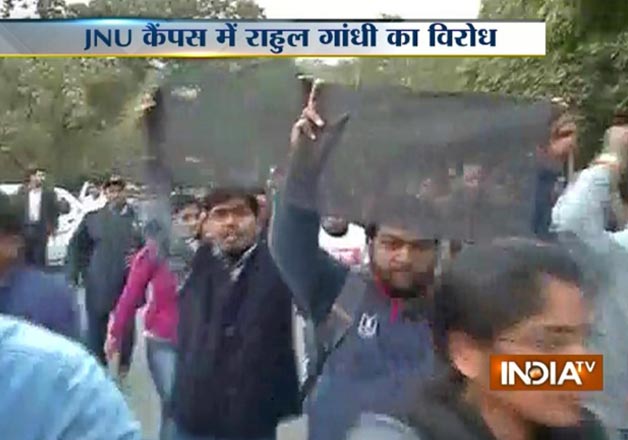 A row erupted over the commemoration of Parliament attack convict Afzal Guru's death anniversary in the JNU campus. Anti-national slogans were also shouted in the varsity's campus. The JNU administration ordered a "disciplinary" enquiry into the matter saying any talk about country's disintegration cannot be "national".
The University also said that the event was organised despite cancellation of permission.
The uproar following the event and the subsequent arrest of the student leader has turned JNU into a platform for political mudslinging. Rahul is present in the campus along with senior party leaders like Anand Sharma and Ajay Maken. Senior Left leader Sitaram Yechury is also present at the campus.   
Leaders from Left parties and JDU earlier met Home Minister Rajnath Singh regarding the arrest of the student leader. Rajnath has told the leaders that no innocent would be arrested. However, the government has also made it clear that those involved in anti-national sloganeering in the varsity campus will not be spared.
The matter has also turned into a major war of words between the ruling BJP and the opposition parties. Delhi CM Arvind Kejriwal also told the government today that the arrest of student leader Kanhaiya would lead to disastrous consequences.