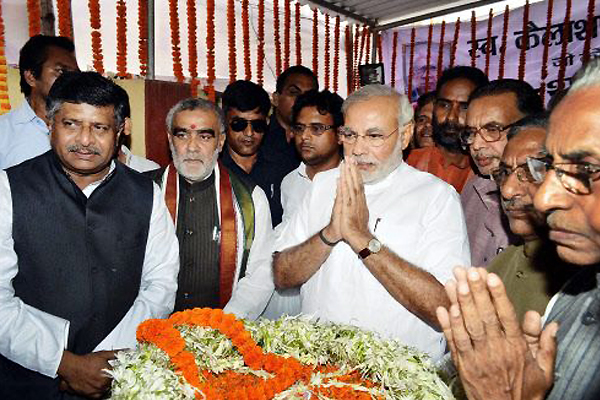 Patna, Nov 5: Gujarat Chief Minister Narendra Modi, who came to Patna after a gap of 28 months on Sunday, was lustily greeted by BJP workers who raised slogans wanting him to be the next Prime Minister.
"Desh ka Pradhan Mantri kaisa ho, Narendra Modi jaisa ho" [a person like Modi should be the PM]," the workers shouted when  Modi reached the residence of veteran BJP leader Kailashpati Mishra, who died on Saturday. to pay floral tributes.
Modi was last here for the BJP national executive meeting in June 2010.
There is no love lost between Bihar Chief Minister
Nitish Kumar
and Narendra Modi.
Nitish Kumar had ensured that the Gujarat strongman was kept out of Bihar in the 2005 and 2010 Assembly elections as also the 2009 Lok Sabha polls.
Modi went to Mishra's residence straight from the airport and stayed there for about 15 minutes before heading back.
Deputy Chief Minister Sushil Kumar Modi, BJP Deputy Leader in Rajya Sabha Ravishankar Prasad, Bihar BJP president C.P. Thakur and others accompanied  Modi during his brief stay.
Modi told reporters that Mishra as Governor of Gujarat had worked as a bridge between the Centre and the State.