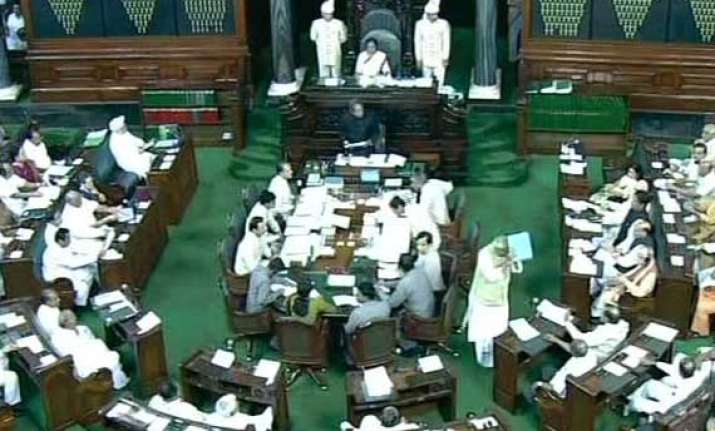 New Delhi, Aug 14: The Lok Sabha was adjourned till Monday following several disruptions on various issues, including Telangana, and a spat between the BJP and Trinamool Congress on Darjeeling.
The house was first adjourned till noon over the Supreme Court order cancelling reservations in recruitment of faculty for super-speciality medical and engineering institutions.
The government said it would bring an amendment to negate the Supreme Court order.
"We will bring a constitutional amendment bill in this session," Parliamentary Affairs Minister Kamal Nath told the Lok Sabha after members united against the court order and asked the government to take steps to reverse it.
"We will file a review petition in the Supreme Court against the said order. If the petition is rejected, we will bring a constitutional amendment bill," Law Minister Kapil Sibal informed the house.
However, the members continued to be agitated and the house had to be adjourned till noon.
Members of the Congress, Bharatiya Janata Party (BJP), Left parties, Samajwadi Party, Bahujan Samaj Party, Janata Dal-United, Biju Janata Dal, Akali Dal, Shiv Sena, Dravida Munnetra Kazhagam and All India Anna Dravida Munnetra Kazhagam wanted the government to take steps to nullify the court order.
When the house reassembled for zero hour, BJP member Jaswant Singh raised the issue of autonomy to Darjeeling. Following this, Trinamool members got agitated and tried to shout him down.
Telugu Desam Party members of parliament also raised anti-Telangana slogans near the speaker's podium.
Amid the din, the chair adjourned the house till 2 p.m.
The house met again at 2 p.m. only to be adjourned till 3 p.m. after noisy scenes over the Telangana issue.
Finally at 3 p.m., the Lok Sabha was adjourned till Monday.
While Aug 15 (Thursday) is a holiday on account of Independence Day, parliament would also not meet Friday -- but in lieu of this, would sit Aug 24 (next Saturday). Parliament does not sit on weekends (Aug 17-18).