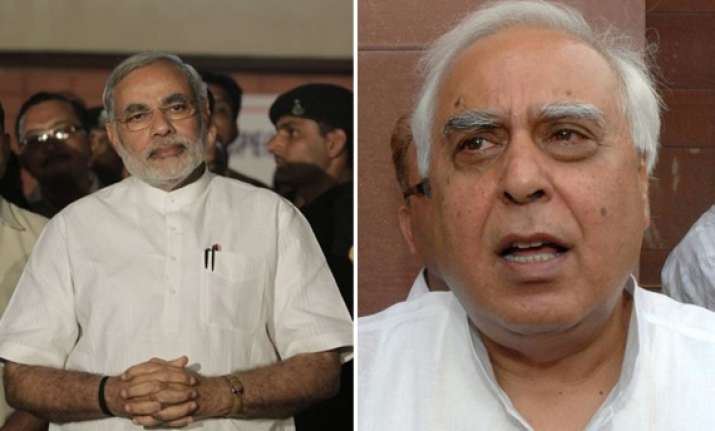 New Delhi, Dec 20:  Faced with a certain defeat in Gujarat, Telecom Minister Kapil Sibal today said exit poll results and pre-poll predictions gave Chief Minister Narendra Modi a natural advantage in the assembly elections.
"I have been saying this, the nature of the media in our country is such that Modi has complete control of the media in a sense and support of the media," Sibal told reporters outside Parliament premises.
"The kind of exit polls results and pre-poll predictions gave him a natural advantage in this election," he said.
On Modi's winning streak in Gujarat, Sibal said the results were not as spectacular as the media had predicted.
"As far as Gujarat is concerned, this was supposed to be a runaway win for Modi. What happened was there was a 3D campaign and the result is only 2D. But the manner in which they said that they will win 150-140 seats in Gujarat, I feel that has not happened," he said.
Sibal said in Gujarat the people who were opposed to Modi remain opposed to him.
"But, this much is true, we should congratulate Modi for his win. He has managed to get 2D results through his 3D campaign," he said.
On Modi being projected as prime ministerial candidate, Sibal said, "BJP will decide. It is a multi-brand party. There are many contenders. They will decide which brand to take forward."
External Affairs Minister Salman Khurshid said Modi was restricted to only one state whereas Rahul Gandhi had a pan-India appeal.
"Why threatened of Modi when the entire BJP leadership could not threaten us," Khurshid shot back when asked whether the Congress felt threatened by Modi.