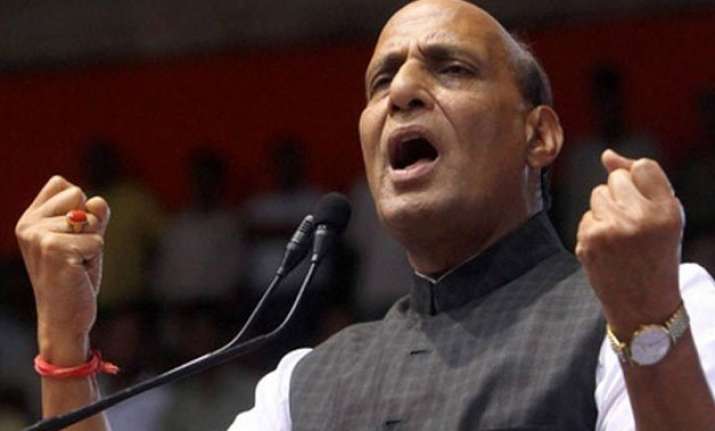 KOLKATA:  Affirming that there would be no interference by the Centre in the functioning of the Delhi government, Union Home Minister Rajnath Singh today said everybody should work within the constitutional framework.
"Everybody should work within the constitutional provisions. And I would like to add that Delhi government has been elected by the people and the central government will not create any hurdles in its functioning. We will also give them full cooperation," Singh told a press conference here.
Singh made the comment as a bitter power struggle was going on between the Delhi government and the Lt Governor of Delhi.
He said that the Narendra Modi government believes in constructive and cooperative federalism.
"We feel and believe that there is a need for constructive and cooperative federalism. And that is the reason why we have increased the revenue sharing between the states and the Centre from 32 per cent to 42 per cent," Singh said.
 
The Minister said, "We want cooperation from all political parties. We also appeal to the Congress that it's role in Parliament should be constructive".
 
Describing the performance of the BJP-led NDA government in the last one year as "excellent", he said the government was always in "action mode".
 
"After the BJP-led NDA government came to power, our credibility has increased in the whole world. The Congress-led UPA government was a victim of policy-paralysis and the country's economy was derailed," he said.
"Now the situation has improved. Even the international rating agencies like Moody's has given a positive sign to our government. We came out of policy paralysis and now decisions are taken fast. In next three to four years, the GDP growth rate will be in double digits," he said.
On the issue of corruption, he said, "There were several scams during the UPA rule. But none in ours, not even our critics can put the blame of corruption on our government".
He said that 40 Defence proposals were given clearance during the last one year to strengthen the country's security.
On waving the Pakistani flag in Kashmir, the Home Minister said, "Our government will not tolerate if anyone raises pro-Pakistan slogan on any part of Indian soil."
The Union Home Minister also said that the agenda of the Article 370 was still there with the BJP.
"The agenda of the Article 370 is very much with us. We for the first time have been a part of the state government there. Let there be development. Whatever we do we want to do it by taking the common masses in confidence," Singh said.
On the issue of rehabilitation of Kashmiri Pandits," Singh said, "We have arranged funds for their rehabilitation. We have already spoken to the J&K Chief Minister and he has also told us that land will be provided,".