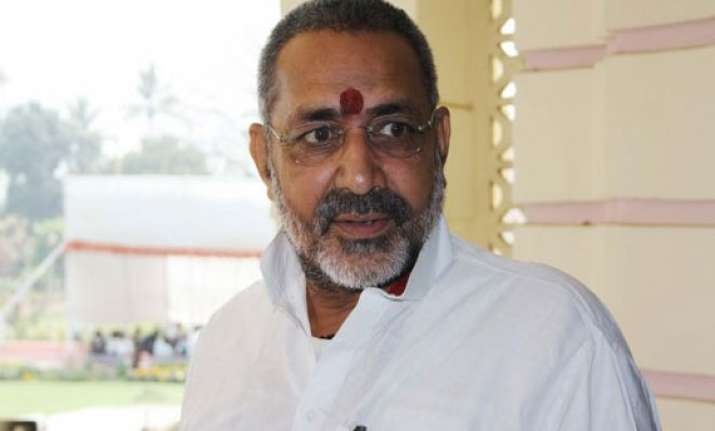 Patna: Undeterred by the "displeasure" of BJP top brass over his remark, defiant senior party leader Giriraj Singh today said he stood by his comment that those opposing Narendra Modi had no place in India and should go to Pakistan.
"I stand by my statement that those trying their best to stop Modi from coming to power have no place in India and should go to Pakistan whose interests these Modi-baiters have sought to espouse by opposing him in the polls," he told PTI.
Speaking over telephone from Bhagalpur in the midst of campaigning for BJP candidate Syed Shahanwaz Hussain, he claimed that a number of powerful countries were trying their best to stop Modi from becoming the prime minister with Pakistan topping the list.
He alleged that Pakistan had pulled out all its cards to stop Modi from becoming the prime minister with some leaders in India acting on its behest by running a vilification campaign against him.
"It's in this context that I have described some Modi-baiters as supporters of Pakistan and asked them to go to the neighbouring country as they have no place in India," Singh, a former minister in the Nitish Kumar government, said.
"In democracy, everybody can oppose and I have no problem with that...But nobody has a right to act against national interest and appear to be speaking the language of a foreign country which has been known to act against our country...," he said.
The BJP leader, however, earned the displeasure of the party's central leadership which has distanced itself from his remark made in Jharkhand yesterday.
BJP spokesperson Nirmala Sitharaman said in Delhi that the party had nothing to do with Singh's statement.
In Bihar, the former Deputy Chief Minister Sushil Kumar Modi tweeted: "The BJP does not approve of irresponsible statement by Giriraj Singh."
Congress and JD(U) also slammed the BJP leader's "outrageous comments" and threatened to lodge a complaint with the Election Commission.