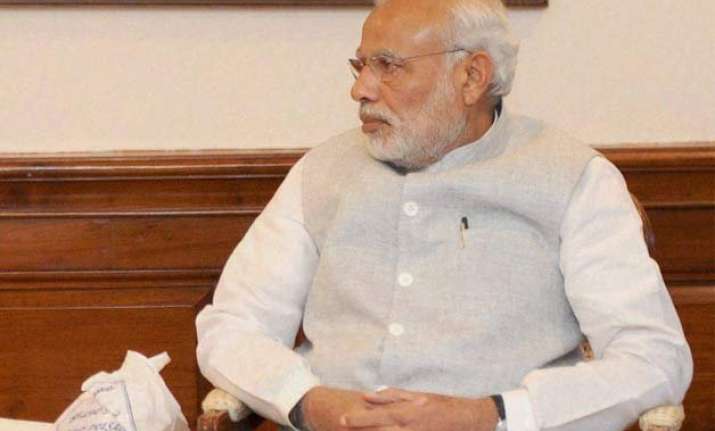 New Delhi: Congress today launched a hard-hitting attack on Prime Minister Narendra Modi accusing him of "selective amnesia" and "abdication of responsibility" in the wake of the Dadri lynching and rejected his description of the incident as "unfortunate".
"In the midst of a motivated hate campaign orchestrated by the BJP, Prime Minister Modi's statement brushing aside the Dadri tragedy as merely a 'sad incident' is extremely unfortunate and inhumane to say the least.
"Modi is suffering from selective amnesia. He has forgotten that he is the Prime Minister of entire country and safety and protecting the life of 125 crore citizens of India is his responsibility," AICC communciation department
in-charge Randeep Surjewala said.
Breaking his silence over the issue, Modi today described the Dadri lynching and opposition to Ghulam Ali's concert in Maharashtra as "undesirable and unfortunate" and
made it clear that his government had nothing to do with them but accused the opposition of indulging in "pseudo secularism" and politics of polarisation.
Slamming his remarks, Surjewala said, "one is forced to wonder as to why, in gross disregard of his Constitutional, legal and social responsibilities, Modi is trying to gloss over his failures by blaming them on everyone else including rival political parties. By doing so, he is sanctifying and encouraging the flag bearers of hate mongering in the country".
Calling Modi's statement "nothing but abdication of his responsibility as head of Government", Surjewala alleged the Prime Minister's assertion that his Government has nothing to do with these motivated hate mongering incidents is even more "painful and shameful".
"His arguments don't hold water. Isn't it true that several of his ministers, legislators and cohorts from the Sangh Parivar incessantly fanned the Dadri flame by making one divisive, irresponsible and provocative remark after the other? Why did the Prime Minister not take any action against his Ministerial colleagues--- Mahesh Sharma and Sanjeev Baliyan for making the provocative statements in Dadri that they made?
"Why did the Prime Minister not take action against BJP MPs and MLAs Sakshi Maharaj, Yogi Adityanath, Tarun Vijay, Sangeet Som and Nawab Nagar? Why were BJP leaders like Harish Singh and Srichand Sharma not punished? Does this amply and conclusively not establish Prime Minister's tacit agreement with the hate campaign that these leaders implemented on the ground? Surjewala asked.