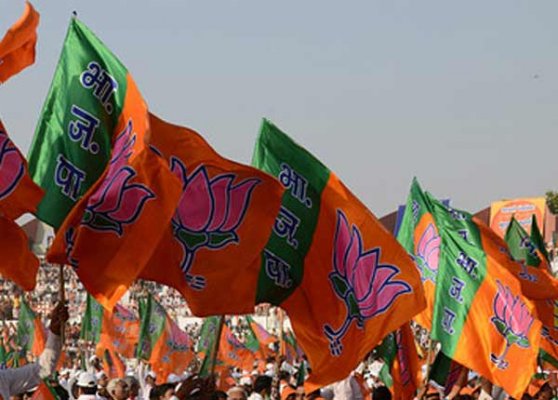 Cuttack: At least a dozen senior BJP leaders, including state party president KV Singhdeo, along with hundred other party activists were taken into preventive custody in Cuttack on Tuesday when BJP workers and police entered into a scuffle during a protest rally.
More than 2,000 BJP workers, as planned earlier, had come in a rally to gherao the office of the Revenue Divisional Commissioner (RDC) central division and submit a memorandum to him demanding stringent action against those involved in chit fund and land scam in the state.
The protest rally was led by senior party leaders Bijay Mohapatra, Samir Dey, former MLA Pratap Sarangi, former city mayor Nibedita Pradhan and other frontline leaders of BJP.
But the protesters got upset when they learnt that RDC Bikash Chandra Mohapatra was not in his office to receive the BJP memorandum. The BJP workers then tried to force their entry into the office of the RDC by breaking the police barricade leading to a scuffle.
The fracas between BJP workers and police continued for over 15 minutes and normalcy returned when the key leaders of BJP were taken into preventive custody.
"When the situation went out of control, we have taken some senior leaders into preventive custody," said city DCP Sanjiv Arora.
"We will continue our state wide protest in a more vigorous way till the Chief Minister and other ruling party leaders involved in chit fund and land scam are arrested," said Singhdeo while he was taken into custody by police.
Other leaders like Mohapatra and Sarangi also made similar threats saying that the "lawlessness" and "high handedness" of the ruling party shall not be tolerated in future.