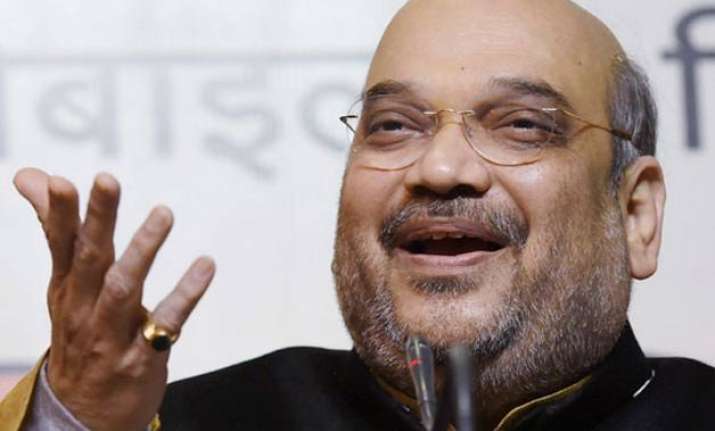 New Delhi: Hinting at the possibility of joining hands with former Chief Minister Jitan Ram Manjhi in Bihar polls, BJP President Amit Shah today said talks are on and his party's doors are open for new allies.  
With Bihar polls, due later this year, seen as a crucial test for the saffron party after it was routed in the Delhi Assembly election, Shah stressed that BJP was giving it "great importance" and expressed confidence that the party will get a majority in the state it has never ruled on its own.  
Asked whether his party would go to polls with existing allies or join hands with likes of Manjhi and expelled RJD MP Pappu Yadav, he said, "Presently, talks are on. Our doors are open."
Shah, who did not name any prospective ally, was speaking to reporters at the party headquarters.
Party sources said BJP could ally with Manjhi, who comes from politically crucial Mahadalit community. However, the party is unlikely to join hands with Pappu Yadav.  Asked if the Bihar election was test for him after the defeat in Delhi, Shah said every poll is a "test" for him and went on to add that the party was taking it very seriously.  "We are taking it very seriously and attaching great importance to it," he said.
Ram Vilas Paswan-led LJP and Upendra Kushwaha-led RLSP are BJP's existing allies from the state.  BJP is pulling out all stops to vanquish its former ally, JD(U) leader and Bihar Chief Minister Nitish Kumar, who has joined hands with RJD's Lalu Prasad.
With differences between Kumar and Prasad coming to fore, BJP believes it can wrest the state from the two Bihar satraps who together have ruled it for the last 25 years.  JD(U) and RJD had earlier announced that they had merged with four other 'Janata Parivar' offshoots to take on BJP but their competing interests have derailed the exercise and it is not clear yet if both will fight the polls as allies.