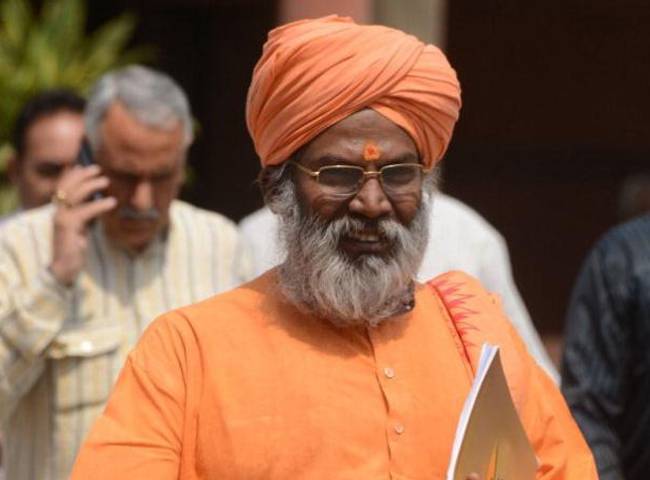 Taking Prime Minister Narendra Modi's remark demanding equality in the construction of "kabristaan" and "shamshaan", Bhartiya Janata Party (BJP) MP Sakshi Maharaj took it one notch up saying there was no need for kabristan (graveyard) at all. 
"Chaahe naam kabristan ho, chaahe shamshan ho, daah hona chahiye, kisi ko gaadne ki aveshyakta nahin hai. 2-2.5 cr sadhu hain sabki samadhi lage kitni zameen jayegi, 20 crore Muslims hain sabko kabr chahiye Hindustan mein jagah kahan milegi. (Whether it is named graveyard or crematoriums, nobody needs to be buried. There are 2-2.5 crore Hindu saints in this country, if everyone of them gets memorial how much land would be used? There are 20 crore Muslims and all of them need a grave. Where would this land come from in Hindustan?)" Maharaj said today.
"If you create kabristaan (graveyard) in a village, then a shamshaan (cremation ground) should be created. If electricity is given uninterrupted in Ramzan, then it should be given in Diwali without a break. Bhedbhaav nahin hona chahiye (there should be no discrimination," Modi told a rally in Fatehpur on February 19, apparently playing the Hindutva card in the politically crucial state where seven-phase elections are underway.
Modi's comment was seen as an apparent attempt to polarise votes in the name of religion in the state.
The remark kicked up a huge storm with opposition parties accusing Modi of attempting "communal polarisation" of voters.
The Congress said he "pulled down" the stature of the high office with comments. 
Maharaj, 61, BJP MP from Unnao has a reputation for making controversial statements. He has often blamed Muslims for India's population growth.