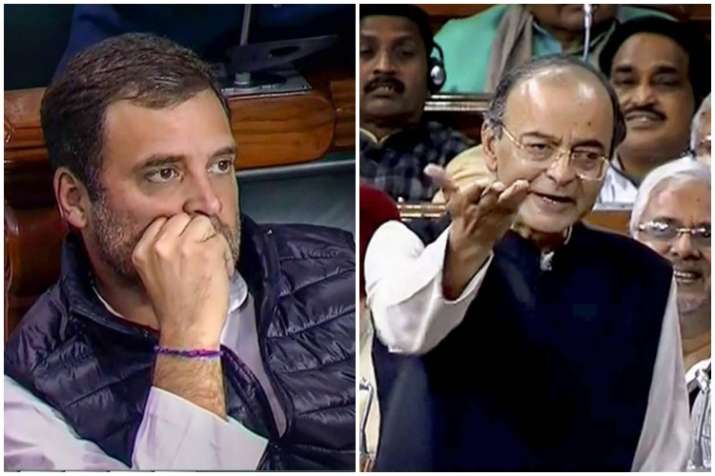 It was a day of jibes and abbreviations at the Lok Sabha as it witnessed a rousing debate over the issue of Rafale deal. Congress President Rahul Gandhi and Finance Minister Arun Jaitley trained guns at each other on the issue and fired a volley of allegations. The accusations poured in from both quarters as the rest of the members of Parliament maintained a steady ruckus. 
Rahul Gandhi's 'AA' jibes were met with Arun Jaitley's 'Q' taunts as Congress party's paper planes crash landed on the house floor due to Eurofighter remark.
Also read | Rafale debate witnesses fireworks in Lok Sabha as Arun Jaitley, Rahul Gandhi clash over fighter jet deal
Here's a look at what transpired in the Lok Sabha debate on Rafale deal today: 
First, it was Congress president Rahul Gandhi who came out all guns blazing at the government and posed a series of questions for Prime Minister Narendra Modi. Rahul Gandhi said the PM has 'no guts' to face his queries and added that Finance Minister Arun Jaitley was 'hiding'. 
In a stinging speech, the Gandhi scion took names and placed blames. He alleged that Anil Ambani or 'AA', who he clamed was a novice in defence industry, was given preference over the public sector HAL by the Modi government. 
Later, it was the turn of Arun Jaitley who ripped the Congress president by presenting a point by point rebuttal of his claims about Rafale jet deal. He later rejected the Opposition's demand for a JPC probe into the deal.
To Rahul Gandhi's 'AA' taunt, Arun Jaitley answered in same spirit and said that a family which has been named in three scams cannot point fingers at others. He said when Rahul Gandhi was young, he used to play in the lap of a certain 'Q', referring to Quattrocchi who has been identified as the main accused in the Bofors case. 
Watch full speech by Rahul Gandhi on Rafale deal in Lok Sabha today: 
Also read | High drama in Lok Sabha as Rahul Gandhi threatens to play Rafale audio tape, Speaker denies permission
Questions raised by Rahul Gandhi: 
#Why was old Rafale deal was revised?
#Why did govt decide to buy 36 Rafale jets instead of 126, as decided earlier? 
#Did IAF ask government to reduce the number of planes to be procured? 
#UPA Govt was working on a deal worth Rs 526 crore, why did Modi Govt ink a deal worth Rs 1600 Crores? 
#Why was the then-defence minister unaware about the Rafale deal? 
#Why hasn't Rafale delivered even one single plane to India since the deal? 
#Why was Anil Ambani's company given contract instead of HAL? 
#Why isn't the government setting up a JPC in this matter? 
#A Goa cabinet minister has been captured on tape confirming that former Defence Minister Manohar Parrikar has said that he has the whole truth of Rafale deal stored in files in his bedroom cabinet
Arun Jaitley's replies on Rahul Gandhi's allegations: 
Watch full speech by Arun Jaitley on Rafale deal in Lok Sabha today: 
On audio tape: 
Finance Minister Arun Jaitley challenged the authenticity of the tape referred to by Rahul Gandhi as the proof of 'secrets' in Rafale deal. "On the last occasion, he (Rahul Gandhi) manufactured a conversation between him and the former French President. Today, he repeats the same. Today, he tried to produce a tap but he is too scared to authenticate it," the finance minister said, adding that both the health minister and chief minister Goa have already said that this tape is completely fabricated and they have demanded an enquiry on as to how the Congress party fabricated it. 
On lack of due process in Rafale deal and price difference: 
Congress chief Rahul Gandhi in his speech referred to the difference in cost of the deal for Rafale jets. He said that while UPA government was negotiating for a deal worth Rs 526 crore for 126 jets, Modi government inked a deal for Rs 1600 Crores for only 36 jets. He further claimed that the decisions in the deal were made by one person and no committee or council was forced for the defence acquisition. He said that Modi government took away the contract from HAL and gave to AA (Anil Ambani).
To this, Finance Minister Arun Jaitely said: It was unfortunate that the Congress president has tried to breakdown the complex defence deal into kinder garden arithmetic of 500 and 1600. Taking a jibe at the Gandhi scion, the minister said that Congress party which was once led by some of the great legend is now being headed by someone who does  not even understand what is a combat jet. 
"Some people and families understand country's arithmetic but not the issues related to nation's defence and security," he said, adding that when Rahul Gandhi was young, he used to play in the lap of a certain 'Q', referring to Quattrocchi who has been identified as the main accused in the Bofors case. 
"If the fingers point at you in AugustaWestland, National Herald and Bofors, then it is a bit too much. Today, they have the audacity to raise an allegation against us."
"Indian defence forces had raised the request for Rafale in 2011 after the Kargil war, and it was approved then and there. Eventually the process for procurement started and after a tender bid process in 2007 by UPA it was found in that Rafale was the best choice. But,  there is a specialty about UPA in decision making that is if the aircraft being selected is not the one whose commerce you have dealt with then delay the transaction, make it impossible."
"When the Modi government was formed, the defence forces informed us that our enemy nations have 400 combat aircrafts, which has capacity to fire weapons from a great distance and stressed on the urgent need of similar aircrafts."
Why was old deal revised? : When Modi government came to power we announced that we will buy the jets in an inter-governmental contract (instead of tender) and at better terms and conditions than earlier offered to UPA government. 
Was the decision made by one man? : Before the deal was finalised, contract negotiation commitee, price negotiation commitee and defence officials, mostly Air Force officials, met for 74 meetings to fine tune details of kind of weaponary and configration required to the forces. Then, the contract was sent to the Defence Acquisition Council and defence minister who sent it to Cabinet Commitee on Security before approval. After the entire process, the government inked the contract with Dassault. The Supreme Court, in its judgement, said that it analysed the process and was satisfied that it was followed thoroughly. 
Why was the price revised from Rs 526 crore to Rs 1600 crores? : First of all, prices for basic plane and combat planes are different. We have revealed the price of basic plane as the price details of combat plane will inform our enemies about our defence capabilities. Secondly, prices are nt firm. The deal negotiated by UPA had an escalation clause. I can guarantee you that price of basic aircraft, renegotiated by current government in 2016 was nine per cent cheaper than the deal done by UPA government. Weaponised aircraft was 20 per cent cheaper. The prices were disclosed to Supreme Court, which has said in its judgement that they do no feel the need to intervene in the matter after looking at the prices. 
The Supreme Court's conscious was satisfied but Congress party's election requirement was not satisfied. 
Did Modi government benefit one family (Anil Ambani)? : Congress party, whose hands are socked in Bofors, Agusta, National Herald, is that if you can't find an allegation against of corruption against the NDA then let us manufacture one. They have been saying it is a scam worth 1,30,000. They need to first understand what is offset supplier. Unde rthe deal Dassault is required to buy material worth 50 per cent of the cost of the supplied jets from an Indian supplier. It may not be for the plane but for anything Dassault needs. These offset suppliers are selected by Dassault. This transaction takes place only between Dassault and its offset supplier. 
The total Rafale deal is worth Rs 58,000 crore, offset will be worth Rs 29,000 crore for next 10 years. The company named (Reliance) is among 120 offset supplier is likely to supply material wrth three or four per cent of the deal, which is around Rs 800 crore. And Rahul ji thinks they are Rafale manufacturers. And they say it is a scam worth 1,30,000.
We did not expect this sort of lack of understanding from a party which has ruled the nation for 60 years. 
Why did Modi government ask HAL to make the fighter jets? : I have one question, why did UPA cancel HAL contract to make 108 fighter jets? The SC judgement reveals that the HAL required 2.7 times higher manpower compared to the French manufacturer. While giving contract to public sector firm HAL is nation's interest, it is also in nation;s interest that our Air Force gets those planes in time. 
Congress' demand for JPC: When the apex court has already given its judgement on process, pricing, offset and HAL then which Parliamentary Committee will go against this judgement. It is not a policy matter. The PIL was filed for investigation whether it is a clean deal or not. Besides, no JPC is neutral. MPs tend to find in the favour of their party. A partisan body cannot carry out neutral investigation. In Bofors case, Shankaranand JPC gave a clean chit to the government whereas now we know that there was corruption in the case. 
This JPC is being sought by those who represent the legacy of Bofors to indulge in another fraud, the reason being because our hands are soaked in corruption, you are a clean government, let me invent an allegation of corruption against you. This has been the entire burden of their song. Therefore there can be no JPC in this matter.  
Watch full coverage of the news on India TV's special show Aaj ki Baat with Rajat Sharma: