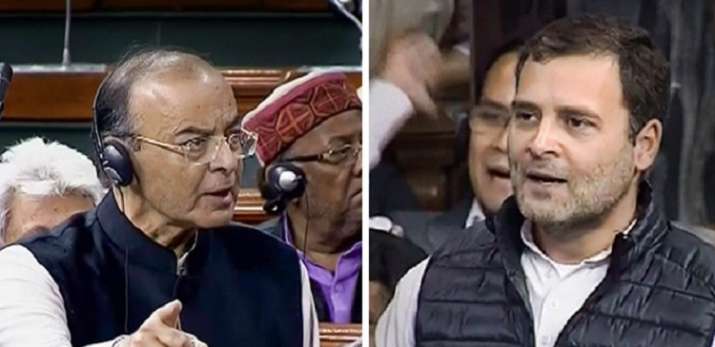 The debate on Rafale jet deal in Lok Sabha on Wednesday witnessed fireworks between the Congress and the Modi Government with both accusing each other misleading the country. First, it was Congress president Rahul Gandhi who came out all guns blazing at the government and posed a series of questions for Prime Minister Narendra Modi. 
Rafale debate in Lok Sabha: As it happened
Rahul Gandhi said the PM has 'no guts' to face his queries and added that Finance Minister Arun Jaitley was 'hiding'. 
Later, it was the turn of Arun Jaitley who ripped the Congress president by presenting a point by point rebuttal of his claims about Rafale jet deal. He later rejected the Opposition's demand for a JPC probe into the deal.
Jaitley hit back to accuse Rahul Gandhi of having a 'legacy of lying' and 'repeating falsehood' and alleged that 'conspirators' of past defence scams are now raising fingers at others.
"Some people and families understand arithmatic of money but cannot comprehend issues of national security," Jaitley said in his scathing remark directed at the Gandhi family and added that they were named in  AgustaWestland, National Herald cases.
Jaitley hit back alleging that 'conspirators' of past defence scams are now raising fingers at the Narendra Modi government and quoted the Supreme Court judgement to say that all charges have been negated.
"There are some people who have a natural dislike for truth. Every word spoken for the last six months on this subject, including in this House (by them) are false....He has a legacy of speaking falsehood," Jaitley said.
He said Gandhi has a 'natural dislike for truth' and had earlier 'manufactured' his conversation with the former French President, which was denied by the French government.
WATCH: Arun Jaitley hits back at Rahul Gandhi in Lok Sabha
"We are all utterly disappointed because every word he has said has been denied by the Supreme Court. When the Supreme Court speaks on an issue, it is the last word," the finance minister said.
Speaker denies Rahul Gandhi permission to play audio tape 
Rahul Gandhi cited a purported audio tape of a Goa minister on the Rafale deal which he refused to authenticate, but sought a JPC probe into the issue.
The Congress leader was disallowed from playing the purported audio tape by Speaker Sumitra Mahajan, after Jaitley objected to the same unless Gandhi authenticated it and faced expulsion in case it is found to be false and fabricated.
"Why did you give this contract to your dear friend Mr AA and cost the exchequer Rs 30,000 crore... it is very clear that the prime minister does not have the guts to come to Parliament and confront questions. The defence minister hides behind AIADMK members, the prime minister hides in his room," Gandhi alleged in the Lok Sabha.
"He knows it is wrong and hence is scared to authenticate it...this man lies repeatedly," Jaitley said. 
WATCH: Rahul Gandhi poses series of questions over Rafale deal in Lok Sabha