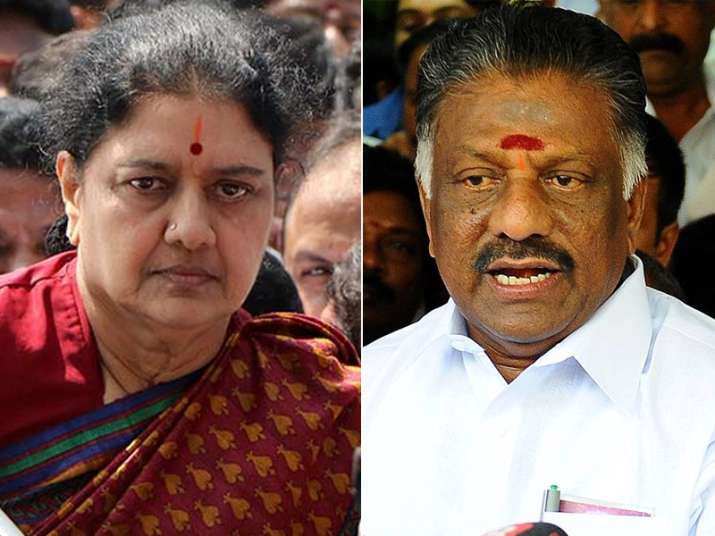 In a dramatic turn of events in the political arena of Tamil Nadu, the two warring factions of the ruling AIADMK met here last night, triggering speculations of a possible merger to save late party leader and former CM J Jayalalithaa's legacy.
The late-night meet was chaired by Electricity minister K Thangamani, who represented incumbent Chief Minister E Palanisamy's side.
Speaking to reporters today, former CM O Panneerselvam informed that the Sasikala faction has formed a committee to conduct talks on merger.
It is said that the focus of yesterday's meeting was to discuss the possible resignation of Sasikala and her nephew TTV Dinakaran and chalk out a strategy for a merger to put an end to the political crisis. 
Most ministers, who were present there, were of the view that party supremo VK Sasikala, who is serving sentence at the central prison in Bengaluru in a DA case and her deputy Dinakaran must resign from all party posts.
Briefing the media after the meeting, Tamil Nadu Finance Minister D Jayakumar said that all AIADMK MLAs and MPs were on the same page.
"We discussed keeping the party united. O Panneerselvam gave an opinion which we welcome. We discussed how we can take the party forward in a united way. Having welcomed his opinion, we will further hold discussions and deliberate about the merger," Jayakumar said.
The possibility of retaining the AIADMK's election symbol -- 'Two Leaves', now frozen by the Election Commission pf India, was also discussed last night. 
"This is like a fight between brothers. We will unite and retrieve the two leaves symbol together," senior AIADMK leader Velumani said.
When asked if Sasikala will quit to pave the way for merger, Jayakumar said, "We have no information regarding this."
The developments come after the Crime Branch of Delhi Police booked Dhinakaran on charges of trying to bribe Election Commission to secure the 'Two Leaves' symbol.
Dinakaran, however, denied the charges and said that he was ready to legally face any summons from the Delhi Police. He was also scheduled to meet Sasikala yesterday but couldn't reach the jail due to traffic congestion at Tamil Nadu-Karnataka border. 
The case against Dinakaran came soon after I-T raided at least 50 locations across the state and seized Rs 5.5 cromre from Health Minister Vijaya Baskar's associates. Vijaya Baskar is said to be a supporter of Dinakaran.
The ruling AIADMK had suffered a major jolt following the demise of Jayalalithaa last December. The party, at that time, had elected Panneerselvam as the Chief Minister. However, he was forced to resign after Sasikala was made the party supremo.
Immediately after this, Panneerselvam alleged that he was forced by the Sasikala-led faction to step down from the post. 
Sasikala, however, suffered a jolt when the Supreme Court restored a lower court's order convicting her in a 19-year-old DA case. 
She subsequently appointed her nephew Dinakaran as the deputy general secretary of the AIADMK and Elapadi K. Palanisamy as the Chief Minister