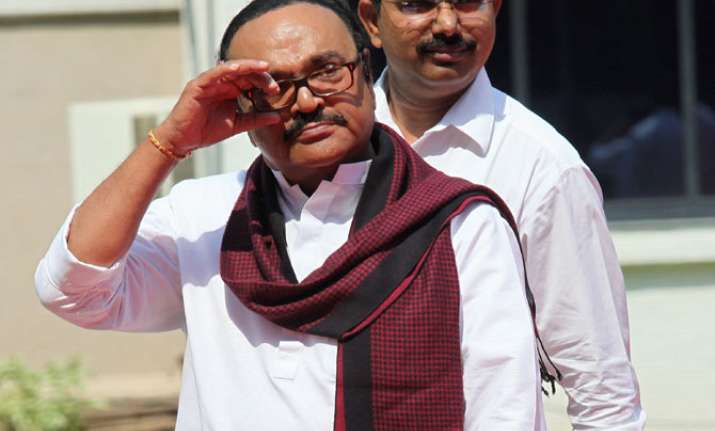 Mumbai: The Enforcement Directorate (ED) today arrested former Deputy Chief Minister of Maharashtra on charges of money laundering in a multi-crore scam related to the construction of the Maharashtra Sadan.
The arrest came after a daylong questioning of the NCP leader by the ED in relation to its ongoing investigation in a money laundering case it registered earlier this year. He appeared at the agency's headquarters at Ballard Pier office in South Mumbai at around 11 am. A sizeable number of party workers started sloganeering outside the office and were soon detained by the police.
The ED had earlier issued summons to Chhagan Bhujbal to be present on March 14 in connection with the case. His nephew Sameer Bhujbal was already arrested by ED on February 1 under Section 19 of the Prevention of Money Laundering Act (PMLA). The agency has also seized his passport to ensure that Pankaj does not leave the country.
According to the ED, the Bhujbals "played a crucial role in laundering huge amounts of money and not coming out with true facts" in a scam where the state exchequer has lost Rs 870 crore.
The ED has alleged that the books of accounts of some of the firms controlled by Bhujbals reflect unexplained transactions which, the agency suspects, are nothing but "kickbacks received by the Bhujbals".
The ED has also alleged that Bhujbals accepted cash in lieu of projects to contractors and "channelled such illegal cash into various companies and integrated it into business activities of the group companies".
On June 17, 2015, the ED filed two FIRs under the stringent PMLA against Chhagan Bhujbal and his son and nephew for money laundering. This was after the ACB searched 26 properties of Chhagan Bhujbal as part of its investigations into alleged irregularities in the award of a contract of over Rs 100 crore for three projects in 2006 when Bhujbal was deputy CM and PWD minister.
Bhujbal, through firms and trusts controlled by his family, is also accused of receiving huge kickbacks in exchange of award of contracts without following rules and procedures.