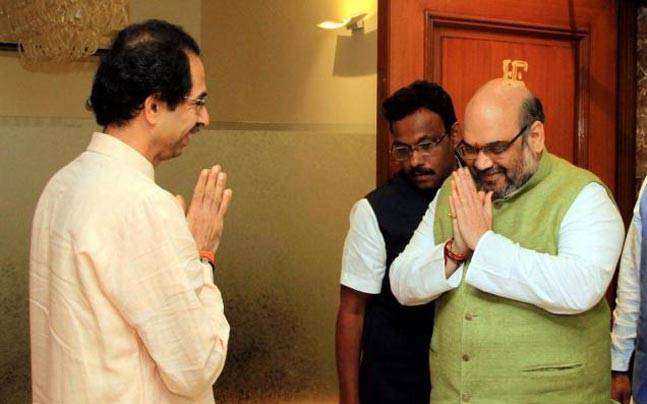 Any hopes of appeasement after 'Sampark for Samarthan' meeting between heads of bickering allies BJP and Shiv Sena seems to be shattered. On the day Amit Shah is set to meet Uddhav Thackeray at his Mumbai residence Matoshree, an editorial in Shiv Sena mouthpiece Saamana has dissed BJP's outreach programme and reiterated that the party will fight 2019 Lok Sabha polls on its own. 
The editorial said that BJP has launched a global outreach programme, 'and as per the programme Modi is undertaking a world tour and Shah a domestic one', it added. The article said that the ruling party had lost touch with the common people, 'they must explore the reasons'.
Questioning the motives of Amit Shah's meeting with NDA allies after consecutive poll losses, Shiv Sena mouthpiece clarified that the party is determined to fight 2019 Lok Sabha polls alone. "Shiv Sena showed its strength during Palghar bypoll. In such a condition, 2019 Lok Sabha polls can be one reason behind BJP chief's Sampark abhiyan," it said.
Saamana piece said that parties like Shiv Sena progress only on the basis of public connection and support and it does not require poster boys to win elections. 
The party accused BJP of changing its star campaigners on the basis of vote bank. Shiv Sena alleged that BJP dropped Modi and Shah from its posters and used late Chintaman Vanga's photos, despite his family's objections, to garner votes in Palghar. But dropped Vanga from posters as soon as the party won. BJP works on a bussiness like mathematic calculation of who to stay in touch with and who to drop, the editorial claimed. 
The Saamana article said that a change of power is certain in Rajasthan and Madhya Pradesh after the upcoming Assembly elections. 
The editorial also mocked Amit Shah's pledge to make Ram Mandir in Ayodhya only if BJP wins 350 Lok Sabha seats on its own in the next general elections.
One of the oldest NDA constituent, Shiv Sena quit the alliance when it announced that it will fight recent Lok Sabha bypolls on its own.