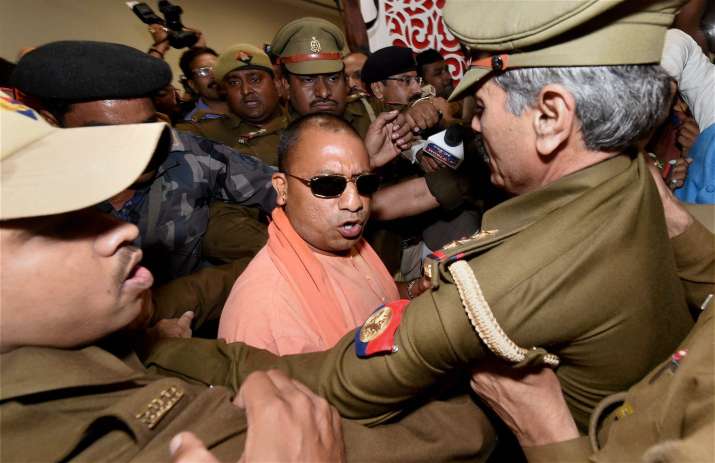 The Bharatiya Janata Party's anointment of Hindutva hardliner Yogi Adityanath as the next Chief Minister of Uttar Pradesh has stirred up a storm. Within minutes of clarity on Adityanath's name as the new CM of one of the country's most populous state, political observers and parties have been divided in opinion. 
While one section – largely comprising the Opposition – saw Yogi's selection as an opportunity to reassert their contention of the saffron party's mega win in UP to polarisation and paint a grim picture of what's to come, others saw it as too early into his tenure – which hasn't even begun yet -- to judge him on his past.  
On his part, soon after being elected as the Legislative Party leader by 312 Uttar Pradesh MLAs of the Bhartiya Janata Party (BJP), Yogi Adityanath on Saturday said he would follow Prime Minister Narendra Modi's 'sabka saath, sabka vikas' slogan and exuded confidence that the state would march on the path of development. 
Knowing full well what his opponents and detractors would charge him with, the CM-designate, whose campaign was shrouded with the Hindutva agenda, assured of all-round development of the state.
Also Read: Kairana exodus, love jihad, anti-romeo squad: Yogi Adityanath outlines agenda for UP polls at Chunav Manch
"I am confident that the state will march on the path of development," he said in his first brief media interaction at Raj Bhawan. Yogi said that his efforts would be to provide "good governance" in the state. 
Delivering upon this promise would be crucial not just for the new Uttar Pradesh CM but also for the BJP's pitch in the Lok Sabha elections in 2019. For, Yogi's critics are sure to use his so-called image as a weapon against PM Modi's promise of inclusive growth and his development agenda. Considering the importance that UP holds in the larger scheme of national politics, countering this will be crucial to the saffron party's prospects in 2019.
If one needed any proof of which way the opposition's strategy was to be directed in times to come, Opposition parties provided ample indication.
Soon after his anointment, critics lost no time to point out his hardline Hindutva ideology and anti-Muslim rhetoric in the past as contradictory to what he said after his anointment. The criticism emerges from the controversial statements that Adityanath has made from time to time. Opposition parties were quick to latch on to his past statements including his promise of "Hindu rashtra," his campaigns against "Love Jihad", "Ghar Wapsi", "Hindu exodus" in Eastern UP and the alleged threats to Muslims.
Commenting on BJP's choice of UP CM, CPI(M) politburo member Md. Salim said, "Selection of Adityanath is the culmination of Modi-Amit Shah brand of politics in the state where the BJP systematically played communal card." 
"The BJP is in majority and it is their prerogative as to whom they name as the Chief Minister. But it is evident that the BJP wants to pursue a strong Hindutva line in Uttar Pradesh," Trinamool Congress MP Saugata Roy said.
AIMIM leader Asaduddin Owaisi said, "This is Modiji and BJP's new India. But this is not at all surprising. The Samajwadi Party cheated the Muslims when it was in power. And now we will see a model of exclusivist development. This is the 'vikas' they talk about," . 
"We are unhappy with Yogi Adityanath's selection by BJP as chief minister of Uttar Pradesh. He is a divisive man who propagates divisive agenda and is known to communally polarise people," JD (U) national secretary general K C Tyagi said.
While such reactions are not unexpected, and even justified to some extent, the bigger question being raised on Yogi is his lack of administrative acumen. 
"He (Yogi Adityanath) never held any administrative post. This is an opportunity for him to prove his mettle. I hope he lives up to the expectations of all the people in UP," Biju Janata Dal MP Bhartrahari Mahtab said. 
On its part, the BJP has cited his five terms in the Lok Sabha as one of the reasons for his election as the CM. His five terms as an MP has been pointed out by BJP leaders as enough experience to hold an important job of the Chief Minister of India's most populous state. 
"Yogi is an honest man,nobody can raise a finger on his commitment. Also, winning from the same seat five times is not a small thing," Union Minister Venkaiah Naidu said. 
Considering what BJP President Amit Shah had said on March 11, the day Uttar Pradesh Assembly elections were declared, about "merit being criteria" for selection of UP CM, it wouldn't be completely wrong in assuming that the party did see Adityanath's record as an MP to be of some merit for him to be given charge of a state as big as UP.
Ban on 'illegal' slaughter houses, restoring law and order, Amit Shah outlines party's priorities
A look at Gorakhpur, however, could paint a different picture. The constituency, which Yogi has represented in the Parliament since 1999, has not seen much signs of development, as media reports and his critics point out.  
As a report in the Business Standard mentions the town is yet to overcome the loss of its fertiliser factory, shuttered in 1990 and its sugar mills that collapsed over the next decade. The town loses hundreds of children to Japanese encephalitis as it does not have an adequate medical facility. 
An All India Institute of Medical Sciences (AIIMS) has been approved by the Centre but is yet to come on the ground. 
The district-town lying on the Uttar Pradesh-Nepal border has a long history of communal riots, most recent -- 2007. 
On the other hand, Yogi's counter-image as that of a "problem-solver" does add up as his major achievement as an MP. Yogi, as media reports have it, is known to solve problems for people in his constituency who do not want to go to bureaucrats without a political reference or do not want to get entangled in judicial process for petty issues. 
Still, his record as an MP even in terms of legislation he has proposed give a tinge of Hindutva politics. 
Adityanath has sponsored five Bills since he joined the Parilament in 1999. In 2009, he asked the Centre to pass a national law banning cow slaughter. Other legislations that he has proposed are -- seeking to change the country's name from "India that is Bharat" to "Bharat that is Hindustan", another banning forced religious conversions, calling on the Allahabad High Court to set up a bench in Gorakhpur, and the fifth for a uniform civil code.
Since the announcement of his elevation as UP CM came yesterday, his critics have pointed out two things -- his politics of Hindutva and his lack of experience -- both not helpful for PM Modi's development agenda. 
Criticism aside, Yogi Adityanath has not even taken oath of office yet and needless to say, jumping to conclusions regarding his agenda as CM and fear for the worst is certainly not justified. What we have before us is a CM-designate who has outlined his agenda as the UP CM to be the one of "sabka saath, sabka vikas" (With all and development of all). He may not have much to boast as an administrator but deserves a chance to prove that he has the ability to rise above the divisive politics that he has so far perpetuated and actually implement the policy of inclusive development. 
As Samajwadi Party MP Naresh Agrawal put it yesterday, the newly-appointed CM should be given six months to change his image and deliver.  
"I congratulate him on his election. We will wait and watch for six months. We hope he will change his thinking and desist from creating a divide between Hindus and Muslims. If he does, we will go among the people and oppose him," Agrawal said.
For Yogi, delivering upon the promise will be crucial to his future and that of his party in the state going forward. For, the one message that PM Modi would like to project going into the 2019 elections is that all the BJP could read in its mega win in the politically crucial state is furthering the agenda of divisive politics.