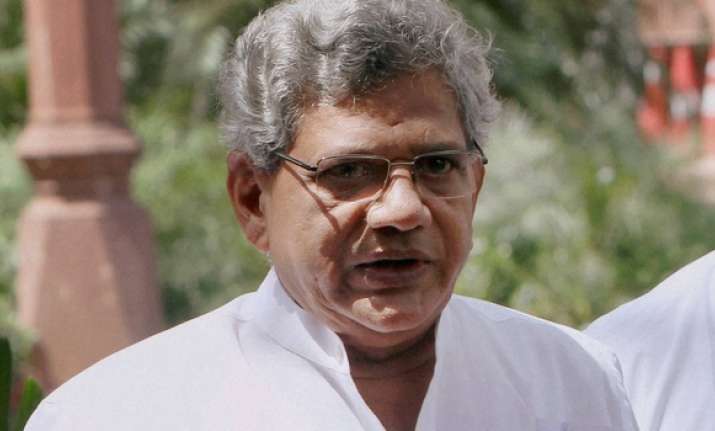 The CPI-M, which has already challenged electoral bonds in the Supreme Court, on Saturday termed this method of political financing a way to legalising political corruption and a resort for trade-offs between political parties and corporates.
"CPI-M has always believed that first step to ending political corruption is to ban donations by corporates to political parties. This is the supply side of corruption ... and unless this is plugged, political corruption cannot be ended. 
"Instead of that, you (BJP) are legalising political corruption. Electoral bonds are nothing but legalisation of political corruption," Communist Party of India-Marxist General Secretary Sitaram Yechury told media here. 
The Supreme Court on Friday had issued a notice to the centre on a CPI-M plea, which challenged the introduction of electoral bonds, which were operationalised earlier the same day through a notification.
"This (electoral bond system) is dangerous in the sense that any foreign company can also now donate to political parties and nobody knows who is donating it, which of the party is receiving it... 
And they have removed earlier clauses and stipulations which had put a ceiling on the amount a corporate can donate to a political party... It means shell companies can be set up, money laundered," Yechury said. 
He condemned the bonds as violation of 'right to know' -- as understood under Article 19(1)(a) of the Constitution and Article 14 (Equality before Law) -- brought for "perpetrating a fraud on the constitution by passing it as a money bill, even though it does not qualify as a Money Bill under Article 110 of the Constitution". 
He also criticised the amendments made to the Foreign Contribution Regulation Act (FCRA) made through the Finance Bill 2018, which rendered valid all the foreign contributions to political parties made since 1976-- the year FCRA was enacted. 
"This again is a very very dangerous move whereby foreign companies -- who owns them, who controls them, to what method are they raising their resources... It is very clear that these donations are a form of investments by the foreign companies for trade-offs and for deals. This is nothing but crony capitalism of a highest order," said Yechury. 
Demanding repeal of the electoral bonds, Yechury also suggested that corporates should be made to strengthen democracy through a law for the purpose. 
".... let there be law that defines a percentage of profit that must be given for strengthening of democracy and let this fund form a corpus which can form a system of state funding of elections. We see this in many western democracies. And this is process of state funding of political parties for electoral practices would be more transparent .. We can work out a mechanism," he added.