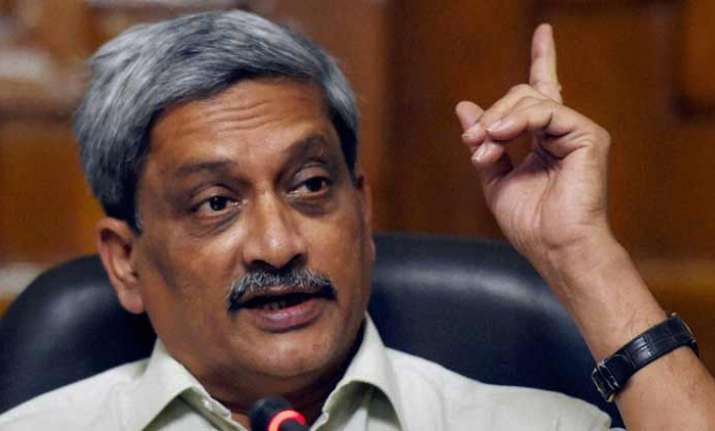 Congress MPs in Rajya Sabha today protested against the presence of Goa Chief Minister Manohar Parrikar in the House during the "Zero Hour".
Parrikar entered the Rajya Sabha when Congress member Rajni Patil was about to ask a question.
However, several members including Digvijay Singh, Congress general secretary incharge of Goa, and B K Hariprasad, were up on their feet and started shouting slogans after they saw Parriker walking in.
Congress has accused the BJP of using unfair means to attain a majority in Goa. The BJP has rejected the charges saying the Congress did not have the numbers and was only creating hype. 
As the shouting continued, Deputy Chairman P J Kurien stood up to bring order in the House. "Please give some respect to the Hon'ble lady member," he said as he asked Patil to raise the issue she had wanted to. 
Patil expressed concern about the use of persticides and chemical fertilisers.  
After that, Parrikar stood up for a moment but instantly several Congress members were back to sloganeering.  
Several party leaders inlcuding Rajeev Gowda, Hussain Dalwai as well as Patil, reached the Well of the House raising slogans against the former Defence Minister.
Union Minister Mukhtar Abbas Naqvi took a dig, sarcastically saying that Parrikar had expressed a "special thanks" to Digvijay Singh. Several BJP members thumped the tables to express support for Parrikar.
Manohar Parrikar later told media persons that he thanked Digvijaya Singh for getting a BJP government formed in Goa.
" It was because of Digvijaya Singh's incompetence that the BJP formed the government in Goa," Parrikar said.
" He kept roaming there and we succeeded in forming the government after building a consensus with the regional parties within 48 hours," he added.