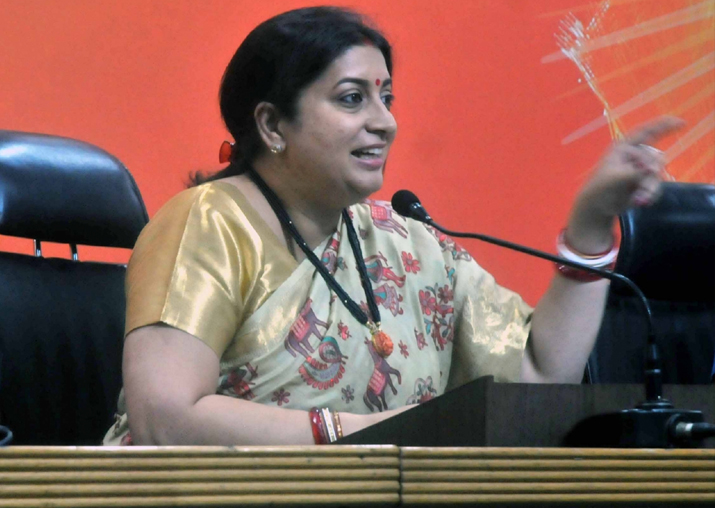 BJP leader and Union minister Smriti Irani today questioned sudden rise in Congress vice president Rahul Gandhi's popularity on microblogging site Twitter. 
Irani said that the Congress leader's account shows his tweets are retweeted by fake accounts from other countries. 
"Perhaps Rahul Gandhi is planning to win elections in Russia, Indonesia and Kazakhstan. Perhaps Rahul Gandhi is planning to sweep polls in Russia, Indonesia & Kazakhstan," she said in a tweet and claimed that bots were behind the Congress leader's popularity on social media. 
While the Congress has attributed the rise in Rahul's followers on the micro blogging site to the Gandhi scion's refreshed avatar, the BJP has citied some news reports that claimed that Rahul's tweets were retweeted through fake profiles and automated bots.
According to media reports, Rahul Gandhi's official twitter handle @OfficeofRG has witnessed a sharp rise in retweets in recent weeks. Reports say that twitter handles retweeting the Congress VP's tweets are automated bots.
On October 15th, 'OfficeofRG' retweeted US President Donald Trump's tweet praising American-Pakistani relations with a caption 'Modi ji quick, looks like President Trump needs another hug'. The tweet quickly reached 20,000 retweets and currently has touched 30,000.
A close analysis of this tweet showed that bots with a Russian, Kazakh or Indonesian characteristic were routinely retweeting the Congress VP's tweets. 
Further scrutiny of these Twitter accounts showed that the follower list was usually under 10 users and retweets comprised of random topics from across the world and those of Rahul. Moreover, the content of these twitter timelines comprised merely of retweets and a lack of tweets which could be categorised as an original thought.
There are also reports that the Congress had roped in Big Data analytics firm Cambridge Analytica for a more targeted digital campaign to woo voters. 
Cambridge Analytica was in the news during the US Presidential election cycle last year for advising Donald Trump in precision voter targeting based on online habits of voters in different states.