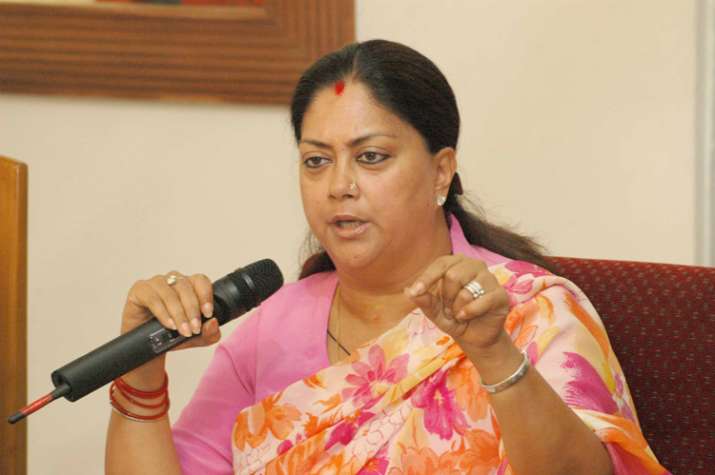 Over three weeks after a man was lynched by alleged cow vigilantes in Alwar, Rajasthan Chief Minister Vasundhara Raje today broke her silence and said that none of the culprits would be spared and no such incident would be tolerated in the state.
"Such incidents would not be tolerated in Rajasthan. Seven people have been arrested and further appropriate action will be taken on the basis of facts that will emerge after investigation," Raje told reporters in the state assembly premises here.
"None of the culprits will be allowed to get away," she asserted.
The lynching incident occurred in Behror town in Alwar district when Pehlu Khan and four others were attacked by a mob of cow vigilantes while they were on their way to Haryana after purchasing cattle in Rajasthan's Ramgarh on April 1.
55-year-old Khan succumbed to his injuries at a hospital on April 3 leading to massive outrage.
The incident also led to uproar in the Rajasthan Assembly yesterday as the opposition Congress attacked the government over the law and order situation in the state.
Raje was also asked about reporters about certain controversial comments made by her party MLA about Bhimrao Ambedkar.
The chief minister said her party's stand is clear about Ambedkar that he was the architect of the Constitution.
She said that Ambedkar is a respectable ideal for all. 
Oppn protests over Alwar killing in Rajasthan assembly 
The first day of the special session of the Rajasthan Assembly convened to pass the state GST Bill today witnessed uproar over alleged derogatory remarks by a BJP MLA against B R Ambedkar and the killing of Pehlu Khan in Alwar, leading to the adjournment of the House twice. 
Raising the issue of the deteriorating law and order situation in the state during the zero hour, the Congress demanded a reply from the home minister over the killing of Pehlu Khan in Alwar's Behror earlier this month over allegations of cow smuggling and a minor girl's rape in Sikar yesterday. 
Leader of Opposition Rameshwar Dudi raised the issue of the Alwar killing and alleged that members of Bajrang Dal and the VHP were involved in the incident, drawing criticism from BJP MLAs. 
BJP MLA Gyandev Ahuja said Khan died of shock while another MLA rejected allegation that any Bajrang Dal or VHP member was involved. 
Intervening in the matter, state Home Minister Gulabchand Kataria said a smuggler has no religion. 
He said Pehlu Khan did not have valid papers for transporting cows and when people were beaten up, the police took prompt action and hospitalised the injured, including Khan. 
"An FIR against the accused was registered on charges of attempt to commit culpable homicide on the very first day of the incident which shows the concern of the government," he said. 
He said when the FIR was registered, Khan was alive and that he died two days later.
(With PTI inputs)