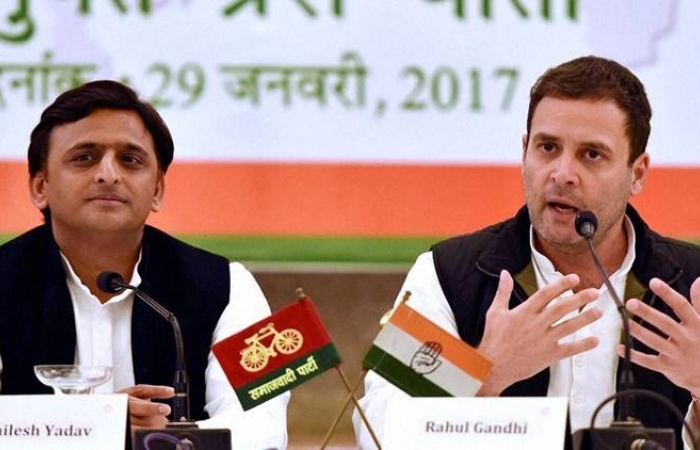 At the press conference of the Congress-Samajwadi Party joint campaign here on Sunday, Rahul Gandhi and Akhilesh Yadav did not rule out the "possibility" of continuation of their alliance for the 2019 Lok Sabha polls as well. 
Acknowledging BJP as their common foe, Akhilesh and Rahul said that the pact would give a befitting reply to the saffron party's politics of "anger and divisiveness". 
Reflecting camaraderie and personal bonding, the scions of Congress and Samajwadi Party showcased themselves as the two wheels of a bicycle. 
43-year-old Akhilesh said, "There is not much difference in age between us and today is the beginning." Rahul is 46. "Rahul and I will take the state ahead on the path of prosperity," he said at the hour-long press conference.
The Congress leader said partnership between Congress and SP was the "uttar" (answer) to BJP's politics of anger and divisiveness.
Letting Rahul lead the show, Akhilesh stepped in to say that the results of UP polls would set the tone in national politics, adding that he was confident that the alliance would win over 300 seats. 
The Yadav and Gandhi scions harped on uniting to fight against the BJP and its communal agenda, while also skipping questions on whether Congress president Sonia Gandhi would campaign for their alliance.
On the other hand, Mulayam Singh Yadav slammed the alliance between the Samajwadi Party and the Indian National Congress for the forthcoming Assembly elections, saying that he will not campaign for them as he believes that SP is capable enough to fight alone.
Noting he had advised his son against entering into an electoral alliance with the Congress, Mulayam Singh said it was most unfortunate that Akhilesh Yadav had done so in his quest to grab power. 
"I am completely against the alliance. I will not campaign for it," Mulayam said.
The decision of Mulayam Singh is likely to impact the alliance as he is still a very important name in state politics. UP goes to polls between February 11 and March 8 in a seven-phased election.