Follow us on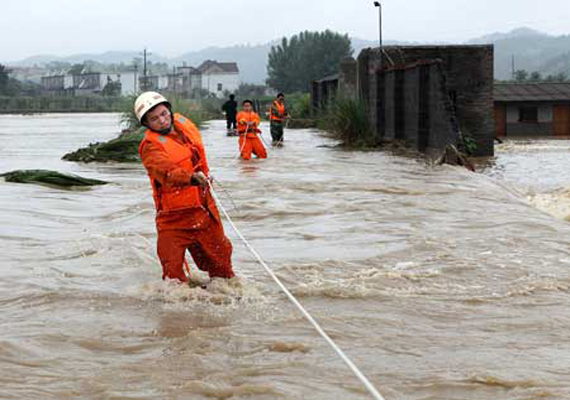 China, Jul 10: Torrential rains since last Saturday have lashed east and northwest China, drenching towns, causing landslides and halting traffics.




Another round of heavy rainfall following the previous one ended last Friday has struck most regions of east China's Shandong Province. Rainfall caused severe flood in Cangshan County of the province, drenching residences and halting local traffics.

Flood has immersed many streets of the county, including one of the major roads, which has been inundated completely. A nearby residential quarter has also been flooded.

A resident said usually he spent three to five minutes to get home. But now it takes him 20 minutes to stumble in water.

Waterlogging is a long-time issue that troubling the residential quarter due to its obsolete sewage system. Local authority dispatched workers to drain the floodwater of the waterlogged area on Sunday.

So far they are making progresses gradually, but it still needs time to dry the streets completely.

The flood also caused severe losses to the mink farmers in rural areas.

In Jinling Township of the Canshan County, rainfall has accumulated to 282 millimeters, immersing dozens of local mink farms.

At one of the biggest farms, which raises 1,100 minks and sables, piles of drowned animals can be seen lying on ground.

"At that time the water was about this high. When my fellow-townsmen learned my situation, they came to help me lifting the cages up above the water. But it was too late.

The water rose too fast and many minks were drowned," said Guo Defeng, owner of the farm.

Although lots of villagers came to help Guo to hang up the cages, which was the only way to save the animal, floodwater still inundated the cages and half of Guo's 700 minks were dead.

Compared with the loss in mink, Guo's loss in sable is even more worse, only 60 out of 400 sables survived.

Guo said the flood has caused him 200,000 yuan (31,000 U.S. dollars) of losses.

Meanwhile, in Xixiang County of northwest China's Shanxi Province, heavy rainfall caused mountain torrents, river swelling and landslide on Sunday, halting traffic on the No. 210 national road.

There were 32 collapses on a section of 26 kilometers of the road.

"The main reason is the heavy rain started in July 2, especially the downpour early in the morning today (Sunday).

The precipitation has reached 100 millimeters within one hour, and triggered the collapses," said Tang Bing, director of the rescuing mission.

Local authority closed the traffic of No. 201 national road after the disaster and organized rescuing work from day to night.

Heavy rainfall has damaged nine roads of the county, affected 45,000 residents and immersed 2,300 hectares of farmlands.

It is forecast that the county is likely to face another round of heavy rainfall.