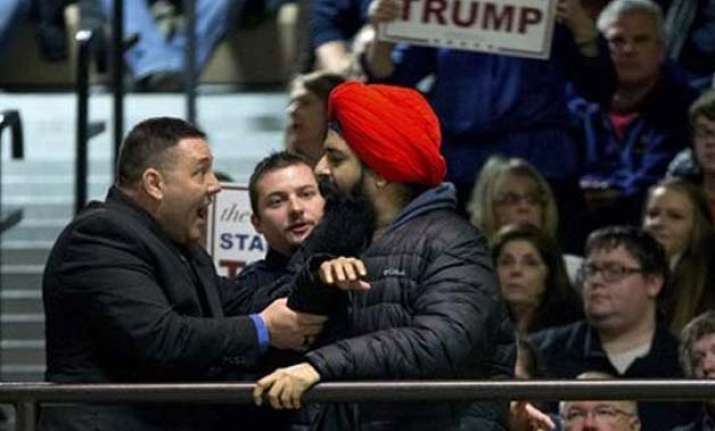 Washington: A Sikh was thrown out of Donald Trump's rally in the US state of Iowa on Sunday after he displayed banner that read 'Stop Hate'.
The man, wearing in bright red turban, started his peaceful protest impromptu, when Mr Trump was addressing an impressive campaign rally on Sunday with his signature anti-Muslim speech.
Displaying a banner "Stop Hate", the Sikh protester tried to interrupt the speech of the Republican presidential front runner. Soon he was escorted out of the rally.
The protest started when Mr Trump was speaking about the twin-tower terrorist attack in New York.
"We have radical Islamic terror going on all over the place, all over the world, and we have a president that won't say it," he said.
"When planes fly into the World Trade Centre, and into the Pentagon, and wherever the third plane was going. When people are shooting their friends in California, when they're shooting their friends," Mr Trump said.
As the Sikh raised his banner, he waved his hand and said 'Bye. Bye. Goodbye'.
"He wasn't wearing one of those hats was he? And he never will, and that's OK because we got to do something folks because it's not working," Mr Trump said as the sole Sikh protester was taken out of the rally amidst chanting of 'USA, USA, USA' by his supporters.
This is one in a series of  incidents where protestors are regularly  thrown out of Trump's rally.
Earlier this month a Muslim woman wearing a hijab and standing in silent protest at one of his rallies in South Carolina was heckled and escorted out.
Trump also faced dissent at his rally in Vermont's Burlington city, where he was interrupted by a series of protestors who raised their voices against him
Asserting his power,Trump told the security personnel to remove the disruptive audience members so that he could continue with his remarks.
But that wasn't enough for the Real estate tycoon.
In his bid to play to the gallery the billionaire impulsively ordered security men to seize the coats of the protestors in addition to kicking them out
"Get him outta there! Don't give him his coat," he said on one occasion. "Keep his coat. Confiscate his coat. You know it's about 10 degrees below zero outside. No, you can keep his coat. Tell him we'll send it to him in a couple of weeks." He said.
Trump has defended his proposal to temporarily ban Muslims from entering the country. He said his call had drawn attention to radical Islamic extremism, which he described as "a very deep-seated problem that we have in this country and throughout the world.'"
Latest polls showed that he has taken a lead over his nearest Republican rival Ted Cruz. Iowa Caucus on February 1 is considered crucial as it would set the trend for the rest of the presidential primaries over the next few months.