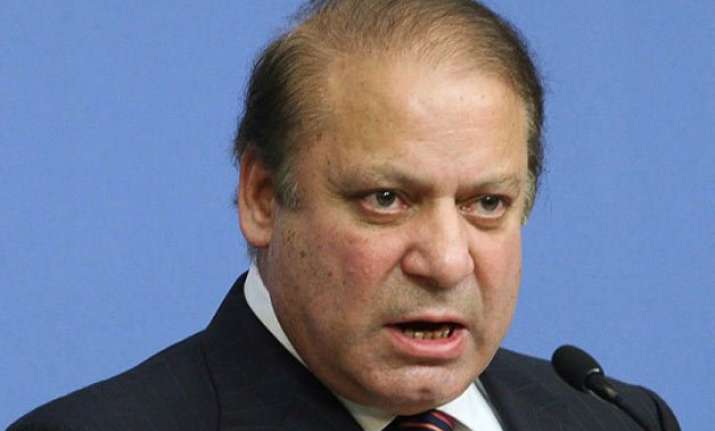 London: Pakistan Prime Minister Nawaz Sharif yesterday said India has given fresh leads relating to the Pathankot terror attack and Islamabad was verifying the facts to bring the perpetrators to justice.
"I have received fresh leads from India on the Pathankot attack and we will look and examine those evidences given by India. We could have hidden it or forgotten it but we asserted that we have received the evidences," Sharif said here on his arrival from Davos after attending the World Economic Forum.
"We are probing and verifying that. Once we are done with that we would definitely bring the facts forward. Along with that, we have also formed a special investigating team, they would go to India and collect more evidence," Sharif added.
Sharif also said that his Indian counterpart Narendra Modi has offered to extend full cooperation regarding the investigation.
"I had a word with Prime Minister Narendra Modi and he had offered every help possible from their side in bringing the perpetrators to justice. We are going on the right lines and I hope the perpetrators will be brought to justice soon," he said.
The Pakistani Premier, who promised further Pakistani action to combat militants, however, conceded that progress had often been slow.  
Pak's probe team to visit Pathankot?
Sharif further mentioned that the probe team from Islamabad will soon visit Pathankot Air Base in Punjab and the findings of the investigation will be put in the public domain.
However, Minister of State (MoS) for Defence Rao Inderjeet Singh had clearly stated earlier that the Pakistan Special Investigation Team (SIT) won`t be allowed to visit the Pathankot IAF airbase.
Earlier, India had welcomed the steps taken by Pakistan to investigate the antecedents of the terror strike in Pathankot allegedly by the the Jaish-e-Mohammad (JeM), and pledged to extend all help to the former`s special investigation team
India gave "specific and actionable information" to Pakistan soon after the Pathankot attack reportedly carried out by Jaish-e-Mohammed terrorists on the intervening night of January 1 and 2 that killed seven Indian soldiers.
Pakistani National Security Advisor Lt Gen Naseer Khan Janjua on January 5 called up his Indian counterpart Ajit Doval during which they discussed "specific and actionable information" related to the Pathankot terror strike.
Doval and Janjua talked about various information and leads, like the Pakistani numbers which the attackers had called and their intercepts with India asserting that an effective action on part of Pakistan was important.  
Sharif was speaking days after a deadly attack by heavily armed gunmen on a university near Peshawar killed 21 people.  
The attack bore a chilling resemblance to the December, 2014 Peshawar school attack in which over 150 people, mostly children, were killed, prompting the government to launch a National Action Plan (NAP) cracking down on militancy.  Sharif said Pakistan would continue the fight against militants.
"We will fulfil this responsibility," he said.
With PTI Inputs