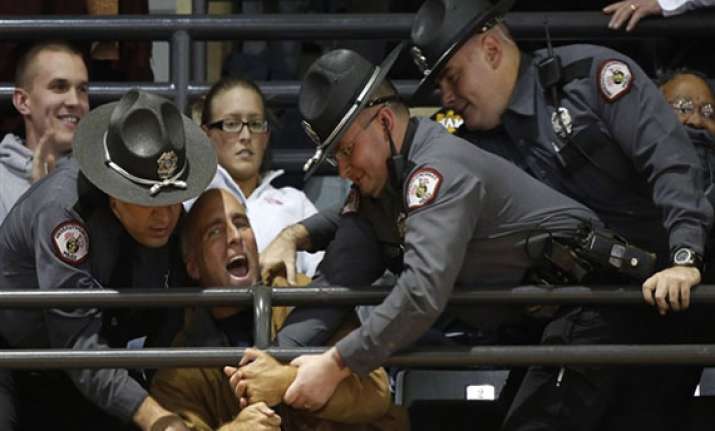 Cincinatti, Ohio, Nov 5 : US president Barack Obama was twice interrupted by hecklers who were then led away by police officers at a supporters rally in Cincinnati, Ohio.
With limited campaigning time remaining before Tuesday's presidential election, Obama had to wait several minutes for the removal of a passionate protester who began shouting at the start of the president's speech.
The first of the hecklers is believed to have shouted several statements about abortion whilst holding up a placard showing images of foetuses.
Many in the crowd applauded when police officers eventually prised his fingers from an upper tier railing and carried him from the venue.
A second man who shouted from the crowd and made gestures towards Obama was booed and subsequently led away by a police officer.
The president continued his speech following the disruption and dealt comfortably with an amorous heckler who shouted "we love you!"
"I love you back," Obama said.
Both Obama and Republican presidential hopeful Mitt Romney are making final pushes for electoral success.
However, whoever wins the vote is likely to disappoint a significant proportion of the country.
Should the election be as close as polls suggest, the president in 2013 will be leading a nation in which about half the people voted against him.
Most states are so decidedly Democratic or Republican they were not even contested this year.