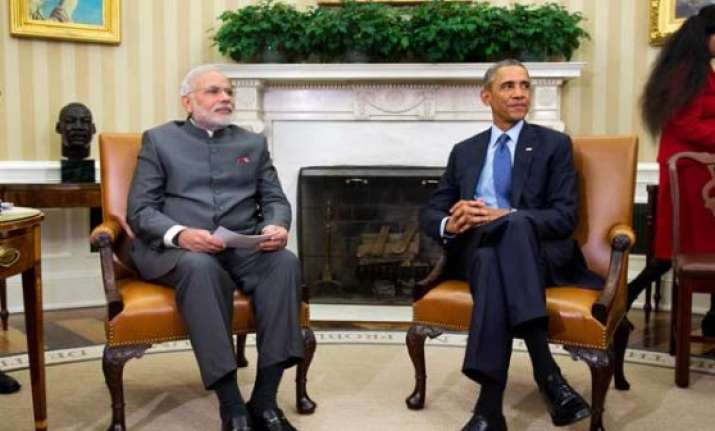 Washington: India and US agreed to extend their defence agreement for another 10 years which is expected to give a big boost to cooperation in this key area between the two countries.
After the Summit-level meeting between Prime Minister Narendra Modi and US President Barack Obama, both sides decided to extend the pact, said Vikram Doraiswami, Joint Secretary (Americas) in the Ministry of External Affairs.
The framework agreement, which will expire next year, was signed here in 2005 by then Defence Minister Pranab Mukherjee and his US counterpart Donald Rumsfeld.
The pact had laid strong foundations leading to mutually beneficial defence cooperation between the two countries through security dialogue, service-level exchanges, defence exercises and defence trade and technology collaboration.
The renewal of the pact had figured at meeting Defence Minister Arun Jaitley had with his American counterpart Chuck Hagel last month in New Delhi.
In the meeting, the two sides had decided to take steps for extension of the pact besides agreeing to enhance cooperation in joint production and development of defence equipment.
The US has been pushing defence deals with India worth over Rs 20,000 crore, including the sale of Apache attack choppers, Chinook heavylift helicopters and the Javelin anti-tank guided missiles.
It has already sold equipment worth Rs 60,000 crore in the last 10 years to India but none of these weapon sales programme is about joint production or co-development and does not include transfer of technology.
India has raised the FDI cap in defence sector recently from 26 per cent to 49 per cent with an aim of boosting indigenous defence production. India imports almost 70 per cent of its defence needs from foreign sources.