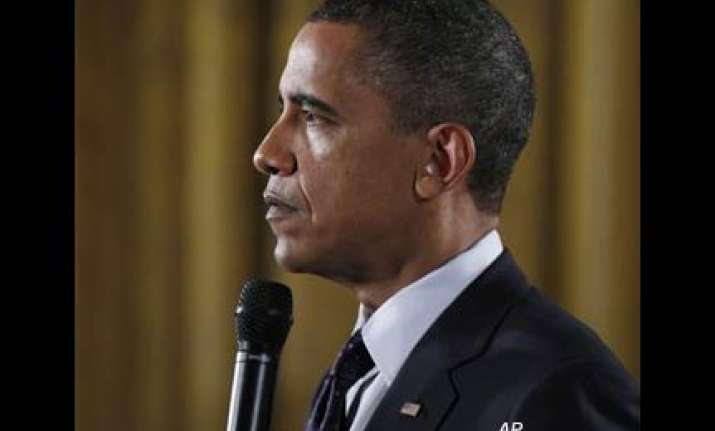 Chicago: Barack Obama turned 49 on Wednesday but it's a 'bachelor birthday' for the US President. First lady Michelle and the couple's younger daughter Sasha are vacationing in Spain, while another daughter Malia is at a summer camp, leaving Obama in the company of his old friends and colleagues at their home here.  
White House Press Secretary Robert Gibbs said Obama would certainly "miss" his family, who will not be with him on his birthday. "I think it's safe to say that of course he will miss them. He has a daughter at camp that I know he's already talked to a couple of us that obviously he dearly misses. But they'll be all back together soon," Gibbs said.  
Obama is planning "dinner with some friends in Chicago," Gibbs said. "And I think he is looking forward to spending the night in his house for a change." "I will be 49 this week," Obama said in Atlanta on Monday. "I have a lot more grey hair than I did last year." Obama followed that comment this week with two more references lamenting his dark hair going greyer with each month at the White House.  
"But at the same time, he's still in pretty good shape and is enjoying the job even with its many challenges. He knew what he was getting himself into in deciding several years ago to undertake this," Gibbs said.  
"There's no doubt that it takes an enormous physical and mental strain on making the decisions that you make, on sending young men and women off to war or tackling the greatest economic calamity our country has faced since the Great Depression. But I know he greatly enjoys it, and it will just require him to get more frequent haircuts," Gibbs said.  
Obama is also set to speak about jobs and the US economy to the AFL-CIO Executive Council Meeting in Washington, the White House said. He will present the 2010 Citizens Medal to 13 winners from across the country at the White House. Obama will also receive the daily briefings, lunch with Senators and meet privately with Senate Minority Leader Mitch McConnell of Kentucky before departing for Chicago.  
While Obama is keeping his birthday low-key, the Democratic party is putting a big spotlight on the day with a string of parties and other fundraising activities paying tribute to the President and drumming up support for the November elections. Obama himself will speak at a fundraiser event while in Chicago tomorrow, after a night of relaxing with old friends. PTI