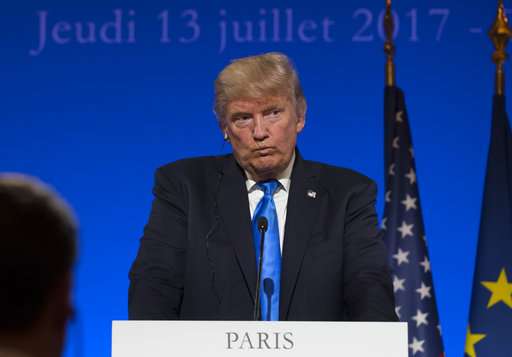 After holding talks with French President Emmanuel Macron in Paris, US President Donald Trump on Thursday gave hints of the United States changing its current position on the Paris Climate Accord.
Addressing a joint press conference with his French counterpart, President Trump hinted that there is a possibility of some new development taking place as far as the Paris accord was concerned. 
"Something could happen with respect to the Paris accords, let's see what happens. If it happens, that will be wonderful, and if it doesn't, that'll be OK too," Trump said.
French President Emmanuel Macron, on his part, said that he respected Trump's decision but reiterated France's committment to the accord.
Macron also added that he respected the desire of leaders and countries to preserve jobs and added that both he and Trump have agreed to continue the discussion on Paris Accord.
"I respect the wish to preserve jobs, I think that's compatible with the Paris accord. There is no sudden and unexpected change today, otherwise we would have announced it, but there is the shared intention to continue discussing these issues," the French president said.
Earlier on Thursday, Macron had admitted that he had sharp differences with the US president on Paris accord. However, Macron added that he will try to persuade Trump on this matter during their meeting. 
On June 1, Donald Trump had announced that the United States was walking out of the Paris Climate Accord.
Trump had alleged that the Paris accord was soft on leading polluters like China and India.
He had also added that the United States was walking out of the accord as it was putting US industry at risk.