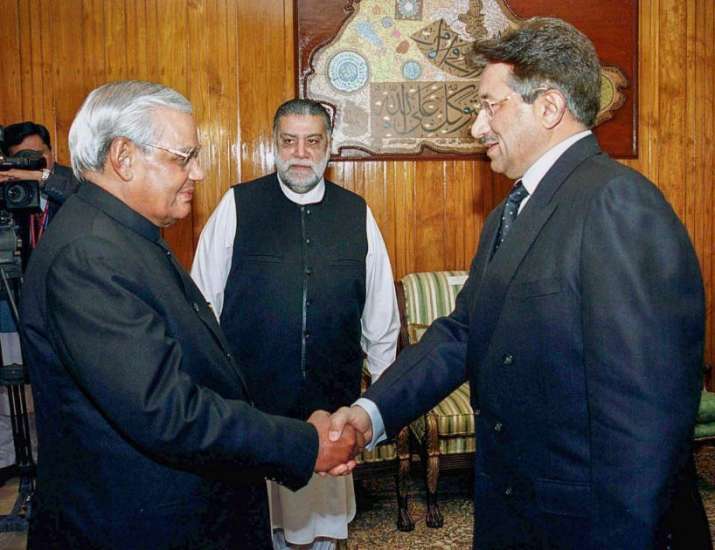 Atal Bihari Vajpayee's relentless efforts to bring India-Pakistan on the discussion table for establishing a long-lasting peace between the two neighbouring nations is well documented. When Vajpayee, who breathed his last at the All India Institute of Medical Sciences (AIIMS) on Thursday (August 16), visited Lahore in a bus, his move was hailed as the dawn of a new era in India-Pakistan relations.
Atal Bihari Vajpayee's popularity in Pakistan was evident by the way the media of that country covered the news of his death. The report about Vajpayee's death figured prominently on Pakistan TV channels, newspapers and news websites. While some described Vajpayee as 'great statesman', others described his death as an 'irreplaceable loss'.
Here's what Pakistani media said about Atal Bihari Vajpayee
Dawn
The Dawn, one of the Pakistan's most respected newspapers, gave a frontpage headline 'Vajpayee, partisan of peace with Pakistan, dies', highlighting the former Indian prime minister's peace initiatives.
"Vajpayee was idolised in Pakistan as a sincere peacemaker and wooed by rivals at home as the right man in the wrong party," the article stated.
"Vajpayee's 1999 visit to Lahore became so popular in Pakista that his host and then prime minister Nawaz Sharif said he could win an election here," it added.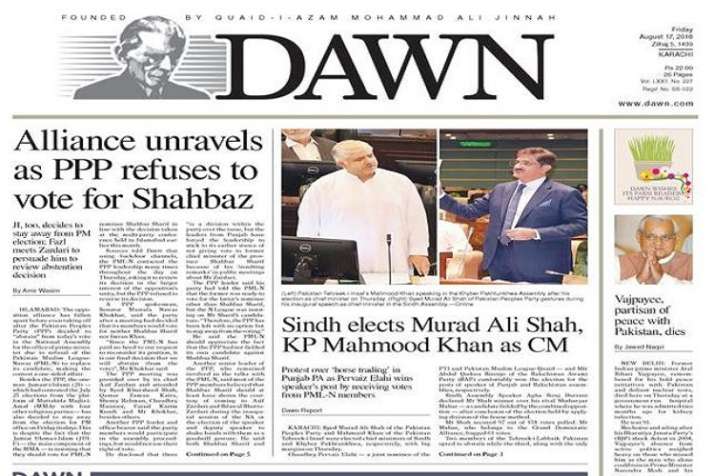 Express Tribune
Another major Pakistan English daily - Express Tribue - published the news of Atal Bihari Vajpayee's demise on its front page. 
"Vajpayee was the moderate face of Hindu nationalism, admired even by prominent political foes," the article read.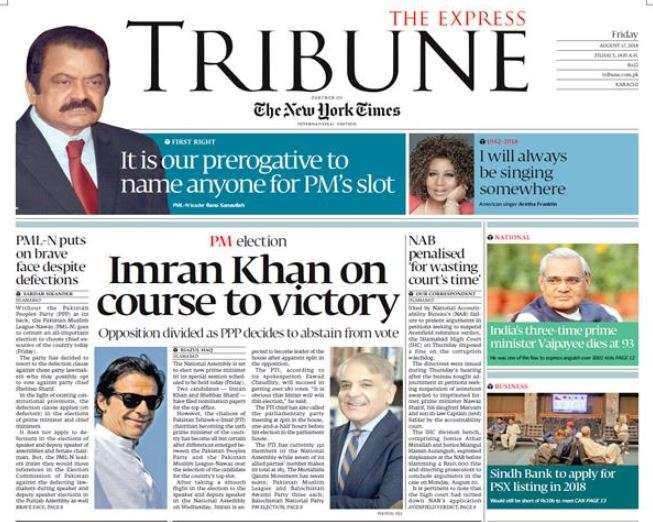 Daily Times
"Three-time Indian prime minister Atal Bihari Vajpayee died Thursday, sparking tributes from across the political spectrum as current leader Narendra Modi mourned the "irreplaceable loss" of the respected statesman," the Daily Times said.
In pics: Charismatic Vajpayee no more, a trip down memory lane
"The former journalist and poet-turned-politician was one of the few opposition lawmakers inside parliament when India's first prime minister, Jawaharlal Nehru, still held office," it said, adding," His more than five-decade-long career peaked in the 1990s, when his masterful oratory attracted tens of thousands of people to his rallies across the country."
Speaking about Vajpayee's contribution to India-Pakistan ties, former foreign secretary Salman Haider said that the former PM "took a great deal of initiative in bringing the two countries into closer proximity with each other".
On Vajpayee's Lahore bus journey to give peace a chance, Haider said, "I think it was a unique gesture by the prime minister of India and something that does him a great deal of credit."
Vajpayee is said to have always believed in giving diplomacy and talks a chance and in 2001 he invited the then Pakistan President Pervez Musharraf to India for a two-day Agra summit meeting.
However, the talks ended without an agreement and the long-running dispute over Kashmir was seen as the main reason for the deadlock.
Former Pakistan Foreign Minister Khurshid Mahmud Kasuri later wrote in his book 'Neither a Hawk nor a Dove' that the "solution to Kashmir was in the grasp of both governments" at the Agra Summit, but could not materialise.
"He (Vajpayee) gave a speech in Lahore, (it) was very touching because he said that as far as he was concerned, he will not allow a conflict to happen. And that speech carried a huge impact, it was played on Pakistan television," Gopalaswami Parthasarathy, who was India's High Commissioner to Pakistan when Vajpayee visited Lahore, told PTI.
"Though, the Agra Summit failed, we gained because we invited him (Musharraf), and he misbehaved," Parthasarathy said.
"He (Vajpayee) was prepared to go the extra mile for peace, but he was also prepared to use military force in defence of the country as he did during Kargil and thereafter the military deployment after the Parliament attack," the former Indian envoy to Pakistan said.
(With inputs from PTI)