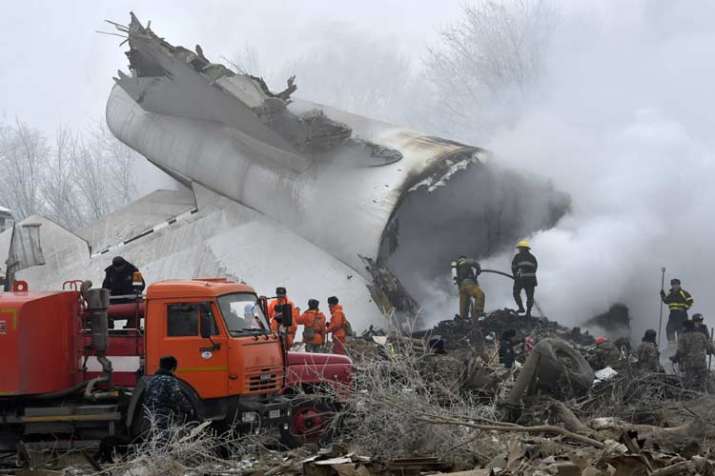 A Turkish cargo plane flying from Hong Kong crashed near Kyrgyzstan's Manas airport on Monday, killing at least 37 people, most of them on the ground, officials said.
The Boeing 747 belonged to the Istanbul-based cargo company ACT Airlines, which said the dead included the plane's four Turkish crew members: two pilots, a freight expert and a flight technician.
The plane crashed into homes near Manas airport, about 25km (15 miles) north of the capital, Bishkek. Several buildings were destroyed, and a number of children are reported to have been among those killed.
It came down at 07:31 local time (01:31 GMT) in the populated area.
Visibility was poor because of thick fog at the time, but the cause of the crash has not yet been confirmed.
The flight was making a stopover at Manas en route to Istanbul in Turkey.
Manas airport, the main airport in the country, has been closed.
ACT Airlines said in a statement that the crash wasn't the result of "technical reasons or factors linked to the freight" on the plane. It did not specify the plane's cargo.
It said the plane's records book had no record of any technical faults and said that the plane had not encountered any mishaps during its journey or as it proceeded to land at Bishkek.
Turkish President Recep Tayyip Erdogan called Kyrgyz President Almazbek Atambayev to express his condolences at the loss of lives in the disaster.
Turkey's transportation ministry also sent two experts from its accident investigation board to Bishkek to assist Kyrgyz authorities.