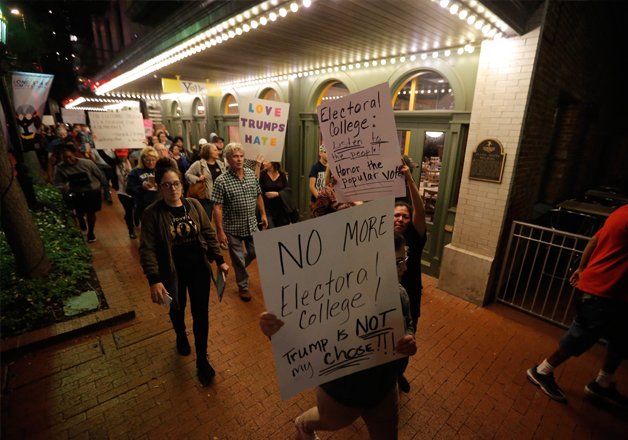 Thousands of people across the US continued to march down streets and interstates opposing Republican Donald Trump's surprise victory in the presidential election, hours after the President-elect praised their 'passion'.
One of the biggest crowds gathered outside 58-storey Trump Tower in New York on Friday. This was the third night of protests since Trump's election on Tuesday night. 
Thousands also took to the streets of Miami, Atlanta, Philadelphia, San Francisco and Portland, Oregon, voicing anger at Trump's inflammatory and often deeply controversial campaign rhetoric about immigrants, Muslims and women.
Authorities said that more demonstrations are expected through the weekend.
In Miami, hundreds of people walked down Biscayne Boulevard chanting "Love Trumps Hate" and carrying signs with messages such as "How many judges will it take to ruin America?".
Much of the group walked onto Interstate 395 and surrounded cars. Four lanes of traffic came to a standstill.
Interstate 80 in Iowa city was shut down briefly by about 75 protesters, Sgt. Chris Akers with the Iowa City Police Department said. However, no one was arrested.
Trump, who initially denounced Americans who protested against his election, saying they had been "incited" by the media, reversed course and praised them on Friday night.
"Love the fact that the small groups of protesters last night have passion for our great country. We will all come together and be proud!" he tweeted on Friday. 
Love the fact that the small groups of protesters last night have passion for our great country. We will all come together and be proud!

— Donald J. Trump (@realDonaldTrump) November 11, 2016
On Thursday he had said: "Just had a very open and successful presidential election. Now professional protesters, incited by the media, are protesting. Very unfair!"
There were no reports of violence or arrests at Friday's rallies, unlike on Thursday night when demonstrators in Portland threw objects, damaging new cars at a dealership. Police there arrested at least 26 people.
The Facebook page for a protest planned in Burlington, Vermont, said, "Come protest the xenophobia, racism, homophobia, misogyny,and climate science denial of the Trump/Pence regime!! Come show your support for our Muslim, queer, immigrant, and female family!!"
In Portland, Oregon, city officials appealed on Friday for calm after a Thursday night protest by about 4,000 people turned violent. Windows on businesses were broken and a car dealership was vandalised. Twenty-five people were arrested.
In Boston, hundreds of people gathered in Boston Common -- central public park -- for a "Love Rally in the Common".
Organisers said on Facebook: "Let's unite together to peacefully show all of those whom Donald Trump or his supporters have put down that we still care about them, and to give them an opportunity to have their voices be heard."
A similar rally was held in Washington Square in New York, the Facebook page said. "Spread love and peace through the country, and help start the movement #LoveStillTrumpsHate".
Republican's Donald Trump was earlier this week elected the new US President, defeating forecasters who had predicted a Hillary Clinton win in one of the most bitterly fought Presidential battles. A real estate magnate and former reality TV star, Trump is the first person to win the Presidency without having previously held public office or served in the US military.
The 70-year-old will be the 45th President of the US. He will take office on January 20 next year.