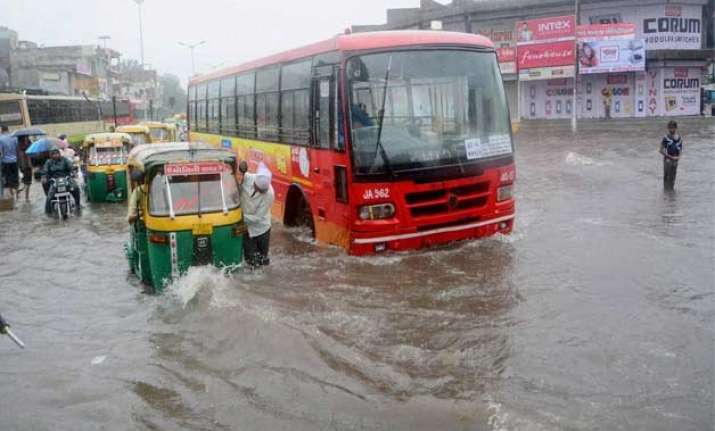 Jaipur:  One person was washed away and two others feared dead in Moongtala village of Rajasthan's Sirohi district where incessant rainfall triggered flood-like situation and delayed train services.
One of the major dams in the village, Angor dam, was brimming, while there is a leakage at gate number 4 of Selwara dam causing flood-like situation in foot hills of several villages, an official said.
Meanwhile, the hilly terrain of Mount-Abu and Abu-Road witnessed shooting stones at several places since last night due to incessant rains.
Seven trains running on the Samdari-Bhilwari route were cancelled today by North-West Railways (NWR), while two have been diverted following damages of rail tracks due to incessant rains at Jalore-Sirohi route here, its Chief Public Relation Officer Tarun Jain said.
The body of the man, who was swept away in the heavy rains last evening, was fished out by the authorities, while the two others who were feared drowned were yet to be traced, the Sirohi district collectorate official said.
Due to shooting stones, the Mount-Abu and Abu road will be closed from both sides by evening keeping in view the safety of passengers. There would be no entry of vehicles on this route to avert any untoward incident, the official said.
Heavy downpour also affected normal life in adjoining district of Jalore, another official said.
NWR cancelled the trains plying between Barmer-Munabao route scheduled for today after gravel and mud beneath the rail track was washed away due to heavy rains, CPRO Jain said.
Teams of National Disaster Relief Force (NDRF) and Jalore district are working round the clock to safeguard locals, an official said.