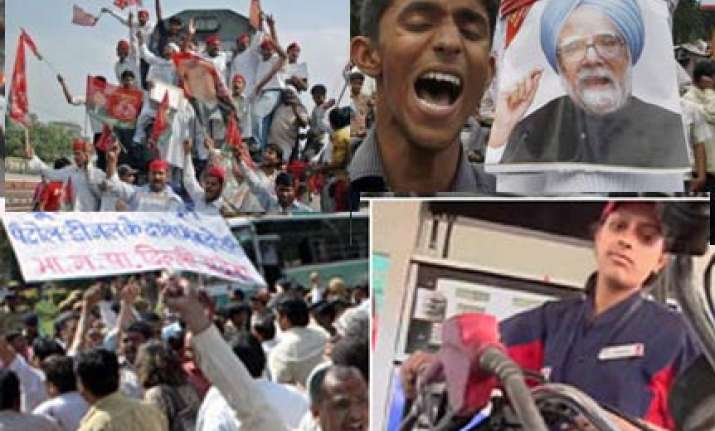 The main opposition Bharatiya Janata Party on Tuesday carried out nationwide protests over the hike in prices of cooking gas, petrol, diesel and kerosene and demanded a rollback.
BJP workers staged demonstrations at several places in Delhi, while in Lucknow police used water cannons to disperse BJP activisits outside the Vidhan Sabha. In Nagpur, party activists took out bullock cart processions, while in Maharashtra, Gopinath Munde led party protests. 
In Kolkata, public transport went off the roads following a call given by CPI-M backed trade union CITU to protest hike in prices of petrol, diesel, kerosene and cooking gas.  Buses, trams, minibuses and taxis did not ply in view of the 24-hour state-wide transport strike though Metro services were normal.  Train were exempted from the purview of the strike.  Flights were also normal at the Netaji Subhas Chandra Bose International Airport. 
A dawn-to-dusk strike called by the CPI(M)-led ruling Left Democratic Front hit normal life in Kerala. Public transport and commercial vehicles were off the roads.
There were no reports of any untoward incident from anywhere, police said, adding essential services have been exempted from the strike. Rail traffic, however, was not affected. Universities postponed the examinations scheduled for the All Opposition parties in Andhra Pradesh took to the streets in a massive way protesting the steep hike in petroleum product prices even as Chief Minister K Rosaiah said government would take a decision on July 1 on reducing the impact of the hike. 
The state government was expected to earn an additional Rs 540 crore in the form of sales tax as a result of the hike in petro products, the Chief Minister noted, adding they would draw plans to spend this money on public welfare. "A decision in this regard will be taken at the Cabinet meeting on July 1," Rosaiah said. 
 Meanwhile, strongly condemning the Centre's decision to increase prices of petrol, diesel, kerosene and cooking gas, TDP workers organised a protest outside the Chief Rationing Officer's office at Begumpet, Hyderabad  and cooked food. 
 The protesters demanded an immediate rollback in fuel price hike. Praja Rajyam Party (PRP) chief Chiranjeevi, as part of the agitation, participated in a padayatra from Tummalapally auditorium to Sub-Collector s office after riding a bullock cart fitted with lorry steering for some distance in Vijayawada. CPI State Committee secretary K Narayana also participated in a demonstration in Vijayawada. The Left parties and BJP also held dharnas, demonstrations at Kukatpally, Narayanguda, RTC Cross-roads junction in Hyderabad.
In Medak district, Telangana Rashtra Samiti leader and former MLA T Harish Rao led a protest against the hike and said their struggle would continue till the Centre withdrew it. The TDP and Left parties organised protests in Ananatapur and Kadapa districts, reports reaching here said. The Left parties will take up the next round of agitation on June 28.
JD-U chief Sharad Yadav appealed to all Opposition parties to unite and call a nationwide bandh to protest the petro price hike and got support support from the BJP.  
In Kerala, a ruling LDF-sponsored dawn-to-dusk strike crippled normal life but passed off without any major untoward incident. Shops, business establishments and schools were closed and vehicles went off the roads.Only a few private vehicles and two-wheelers plied.  In West Bengal, ruling CPI-M's labour-wing CITU enforced a 24-hour transport strike demanding a rollback. 
"We demand immediate withdrawal of the steep hike in prices of petro-products. CPI-M and Left Front are gearing up for agitations across the state to force the government to withdraw the fuel price hike," CPI-M central committee member Mohammad Selim told reporters in Kolkata. Railway Minister Mamata Banerjee appeared to have justified the Left-backed strike saying "everyone has a right to protest" and stuck to her demand for a rollback.
All Opposition parties in Andhra Pradesh took to the streets protesting the steep hike in petro prices and organised rallies even as Chief Minister K Rosaiah said government would take a decision on July 1 on reducing the impact of the hike.  In Mumbai, senior BJP leader Gopinath Munde led an agitation of party workers protesting the price hike. 
The BJP also staged protests in Jammu and Kashmir and Chandigarh.  In Orissa, BJD, BJP, NCP and CPI members sought a resolution on the price hike in the assembly. 
BJP hit the streets in Uttar Pradesh to protest the hike, prompting police to use water canons to disperse the protesters. In Lucknow, party MP Lalji Tandon alleged that by deregulating the prices of petroleum products the Centre had passed the control of essential commodities into the hands of private companies.
After a dharna, party leaders and workers attempted to march towards Vidhan Bhawan to protest against price rise, but were intercepted near by the police personnel. Agitated party workers attempted to break the cordon and march towards the Vidhan Bhawan, forcing the police to use water canons.
In Allahabad too hundreds of BJP workers, led by senior leader Keshrinath Tripathi, staged a demonstration and courted arrest.  In Tripura, the ruling Left Front called a dawn-to- dusk bandh in Tripura on Monday to protest the hike in prices of petroleum products. PTI