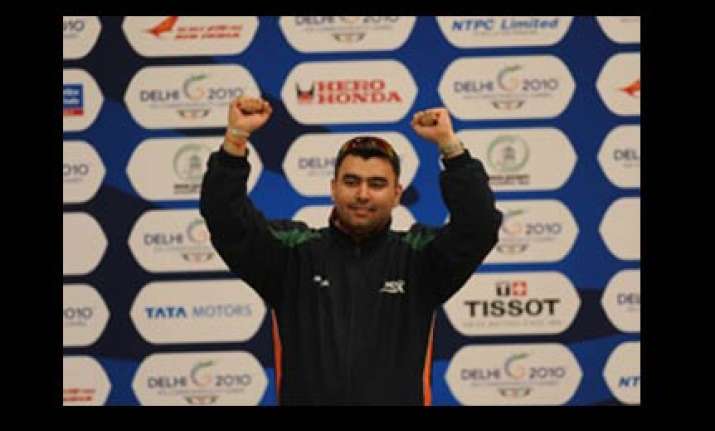 New Delhi, Oct 5: Gagan Narang extended his purple patch by winning his third gold as Indian shooters today grabbed five medals to take their tally to an impressive 15 in the Commonwealth Games shooting event here.
The duo of Narang and Imran Hasan Khan began the proceedings by bagging the yellow metal in pairs 50-metre rifle 3 positions and Omkar Singh capped off a brilliant day for the hosts by winning gold medal in 10-metre air pistol.
Vijay Kumar too clinched gold in singles 25-metre rapid fire pistol setting a new Games record while Manavjit Singh Sandhu and Mansher Singh narroly missed gold in men's pairs trap.
There was, however, disappointment for women shooters Shreyasi Singh and Seema Tomar, who could manage only a fifth-place finish in pairs trap event.
Narang continued his good run as the ace Indian marksman combined with Imran to win gold in 50-metre rifle 3 positions.
They beat England's James Huckle and Kenny Parr to win the yellow metal, scoring a Games record 2325 in the finals.
Huckle and Parr totalled 2308 same as bronze winner Jonathan Hammond and Neil Stirton of Scotland, but the English duo finished ahead of the Scots as they had hit the bull's eye or perfect 10 more number of times.
Canada's Michael Dion and Wayne Sorensan who had totalled 2300 during the Victoria Games in 1994 held the previous record in 50-metre 3 positions.
 In singles 25-metre rapid fire pistol, Vijay totalled 583 after an impressive performance in the six-seconds series, including a 100 in stage 1, to finish seven points ahead of silver medallist Amir Hasan of Malaysia while Gurpreet managed 569.
Gurpreet Singh, who had won a golden double yesterday, had to be content with a bronze medal in rapid fire event.
Manavjit and Mansher totalled 197, a point less than gold medallist Michael Diamond and Adam Vella of Australia, to bag the silver. England's Aaron Heading and Dave kirk clinched the bronze.
Omkar totalled an 681.8 in the finals which was enough to pip Singapore's Bin Gai, who scored 676.2 to bag silver. Daniel Repa Choli scored 674.0 to win the bronze medal.
Early in the day, it was business as usual for Gagan who is aiming to win six gold medals in the sporting extravaganza. He has already won three with three more events to go.
Riding high after his exploits in the 10-metre range where he won both the pairs and singles event, the genial Hyderabadi consistently managed to hit the bull's eye in the 5-metre range.
Doing equally well was partner Imran who scored an impressive 1158, nine points less than Gagan's 1167, another Games record.
Gagan totalled 397 in prone, 385 in standing and 385 in kneeling, while Imran recored scores of 395, 381 and 382 in the three stages to win the top prize.
Runner-up in 10-metre air rifle pairs, Huckle totalled 1158 while his partner Parr finished with 1150. Hammond and Stirton totalled 1160 and 1148 respectively.
 "I am focusing on the Asian games now and would not like to say anything before that," Gagan said after the event, even as scribes jostled for bytes.
Delighted to have bagged his first medal in the Games, Imran said, "I am very happy. And it's always a pleasure to team up with a world class shooters like Gagan (Narang)."
"I will be competing in 50-metre in Asian Games too," Imran, who won a gold in 10-metre air pistol in the last SAF Games, added.
Australia's Laetisha Scanlan and Stacy Roiall clinched the gold medal in pairs trap for women while England's Abbey Burton and Anita North bagged the bronze. Sue Nattrass and Cynthia Meyer of Canada picked the bronze medal. P