Follow us on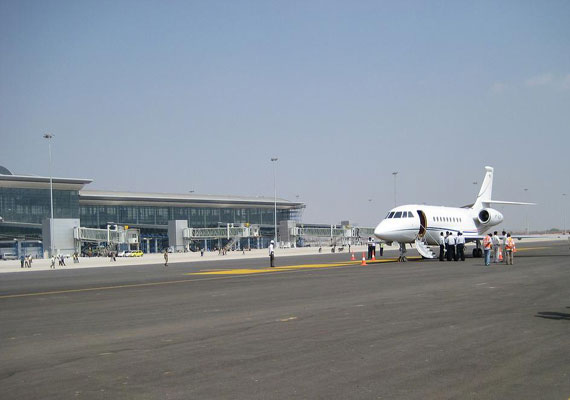 New Delhi, Nov 27:  India is keenly watching developments relating to the Maldives government cancelling the contract with GMR to develop an airport near Male and is "waiting for the legal position to become clear".
"Whatever legal decision is taken (by Maldives) will have repercussions here," External Affairs Minister Salman Khurshid told reporters here to queries about the move.
The Maldives cabinet has annulled the agreement made with GMR Group to operate the Ibrahim Nasir International Airport (INIA), the haveeruonline reported Tuesday.
The agreement awarding the airport to GMR group for 25 years was signed on June 28, 2010 by former president Mohamed Nasheed's government.
Announcing cancellation of the agreement, Attorney General Aishath Azima Shakoor revealed that the decision was taken "with the necessary legal expertise and the decision has been conveyed to Maldives Airports Company Limited (MACL)".
GMR has also been informed of the decision, Azima added, according to the news site.
"The government statement read out by Azima stated that the process to annul the agreement through arbitration would be initiated by the government."
A notice of the cancellation was issued to GMR Group, Maldivian President's Press Secretary Masood Imad said in a statement.
The $500-million project was hanging in balance ever since the regime change in Maldives earlier this year.
After the civil court in Maldives ruled that GMR cannot charge US$27 from passengers as Airport Development Charge (ADC) and insurance surcharge, the Indian infrastructure giant had taken the case to Singapore for arbitration.
GMR was deducting $27 from each passenger since January.
The cabinet's decision came in the wake of increasing pressure from the pro-government political parties to annul the agreement.
The agreement signed between GMR and former president Mohamed Nasheed's government to develop INIA, has been labeled as "illegal" by pro-government political parties who allege it was signed despite objections from the island nation's parliament.
President Mohamed Waheed Hassan told an Indian newspaper that the agreement is a "bad contract" signed "conceivably under dubious conditions" by the previous government, the daily said.
India Tuesday said the Maldives government's decision to cancel the GMR contract to develop an airport near Male would send "a very negative signal to foreign investors and the international community".
It also asked the Indian Ocean archipelago nation to ensure that Indian interests in the Maldives and the security of Indian nationals "are fully protected".