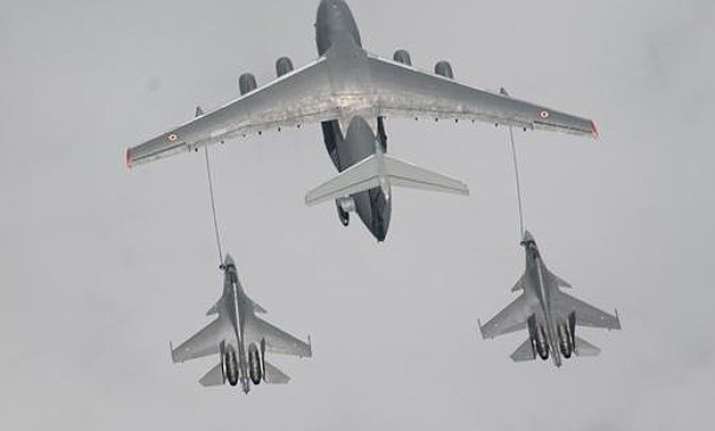 New Delhi: The Indian Air Force on Monday night sought to play down the controversy dogging a recent air exercise with UK over "performance" saying there are no classic wins and losses in such deployment.
The fourth edition of the India-UK bilateral air exercise named Indradhanush was held in the UK from July 21 to July 31.
The 190-strong contingent of the IAF has returned from the overseas deployment only to step into a controversy.
After the 10-day exercise involving India's Su-30MKI fighter jets and British Typhoon, Group Captain Ashu Srivastav, who led the IAF contingent during the exercise, told a TV channel that the performance of Indian pilots was exceptional.
British daily 'The Independent' last week reported that "to the dismay of RAF officers, their Indian counterparts have reportedly taken the unusual step of publicly claiming to have come away from the exercise with a resounding 12-0 victory against their UK opponents".
The daily quoted RAF sources as saying that the Indian claims were "comical" and "designed for domestic audience".
Quoting sources, it added, "There must have been some clouded recollection on the flights back to India, as the headlines of the Indian press bear no relation to the results".
Without referring to the controversy, a statement by the IAF said such exercises are conducted under controlled conditions with mutually agreed weapons performance parameters, with the basic aim of learning from each other's best practices.
Additional advantages that accrue are greater understanding of each other's general operational philosophy and exposure to a different operating environment, it said.
In combat exercises, definite objectives are laid down for each component participating. After the exercise, during debrief, a detailed analysis is carried out to assess the extent of achievement of laid down objectives.
"There are no classic wins and losses as no weapons are fired as per their actual capability," the statement said.
Mutual exchange of ideas as regards to operational philosophy for tactical and strategic missions has provided invaluable learning for both sides.
It added that the air crew of both the air forces have "performed exceptionally well, demonstrating their high standards of training, operational preparedness, flexibility and adaptability".