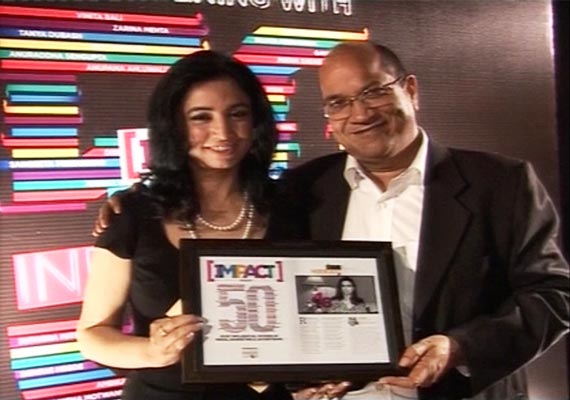 Mumbai, Mar 20: India TV CEO and managing director Ritu Dhawan was presented the Impact Most Influential Woman of the Year award at a glittering function in Mumbai on Monday night.  
Dhawan gets this award for her contribution in the TV news industry. Beginning with the launch of a production house in 1997, Ritu Dhawan was instrumental in the launch of India TV in 2004 and powered it to the top position among all news channels in India.  
Dhawan thanked India TV viewers for making it numero Uno Hindi news channel.
Bollywood producer and Director Ekta Kapoor was among those who were given the award for their contribution in Indian marketing, advertising and media.  
The event was a scintillating and power-packed occasion, studded with industry stalwarts and the ranked trailblazing women achievers.
IMPACT had brought together a gathering of industry experts for this daunting task of creating a list of 50 Most Influential Women. 
The jury was chaired by Sam Balsara, Chairman, Madison World. Other jury members included Arvind Sharma, Chairman and CEO, Leo Burnett India; Colvyn Harris, CEO, JWT India; media veteran Pradeep Guha and Shashi Sinha, CEO, Lodestar UM.
"These top 50 women have been selected not only for the impact they have made on the industry but also on society at large. This initiative will definitely create a stir in the industry," said Balsara.