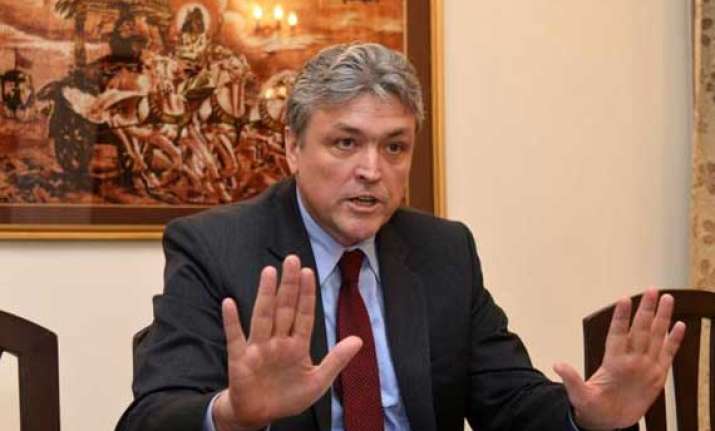 New Delhi: Expressing disappointment at India's failure to condem Russia, a hostile neighbour whom Ukraine accuses of escalating tension in its eastern region, Ukrainian Ambassador to India Oleksandr Shevchenko has urged the NDA government to "find out ways" to support his country's endeavour for justice.
Shevchenko said India's position was "very important" to Ukraine at a time when European nations were rallying behind Washington's belief that Russia might have aided separatist rebels in eastern Ukraine who allegedly shot down a Malaysia Airlines flight over Donetsk on July 17.
"We hope India would not view Ukraine in terms of enemy of my friend," Shevchenko told IANS in an interview.
He appealed to India not to let its strong, diplomatic relationship with Russia come in the way of condemning the latter's "aggression" against Ukraine.
"We believe that thinking in terms of 'enemy of my friend' leads us nowhere in international relations. We are all part of one family. India abstained from voting on the UN General Assembly resolution on the territorial integrity of Ukraine, but we hope that India's Ministry of External Affairs would find other ways to support us," he
said.
He criticised India's former National Security Advisor Shivshankar Menon, who had spoken of Russia's "legitimate interests" in the eastern European country.
"Hundreds of civilian victims in Ukraine are the result of incrementing Russia's so-called legitimate interests. We hope Indian politicians understand the situation better than they did two-three months before," Shevchenko said.
He condemned Russia for "supervising" separatist rebels and called on European nations to tighten sanctions against the permanent member of the UN Security Council.
"We expect Europe to take a harder stance on Russia's aggressive action against Ukraine. Shooting down the Boeing 777 could be a tragic accident. But it is also the consequence of turning a blind eye to Russian annexation of Crimea and its other state sponsored terrorism," Shevchenko said.
Flight MH17 was flying from Amsterdam to Kuala Lumpur when it crashed after being hit by a missile in Ukraine near the Russian border on July 17, killing all 298 passengers and crew on board.
Ukraine has maintained that the strike was a handiwork of its separatist rebels in the eastern region, the People's Republic of Donetsk, which is aided by Russia. The US and several of its closest allies too accused Russia of aiding and abetting, if not actually perpetrating, the heinous crime.
Shevchenko said Ukraine has "plenty of evidence" to prove Russia's intervention in Ukraine.
"Our intelligence interceptions prove that the Russian Federation has been generous enough to supply its proxy with a large number of tanks, armoured vehicles, rocket launchers and advanced air-defence systems. After liberating a number of Ukrainian towns and cities, large depots of Russian grenades and mines were discovered, including accompanying documentation that Russian centres were recruiting volunteers to fight against Ukraine," Shevchenko maintained.