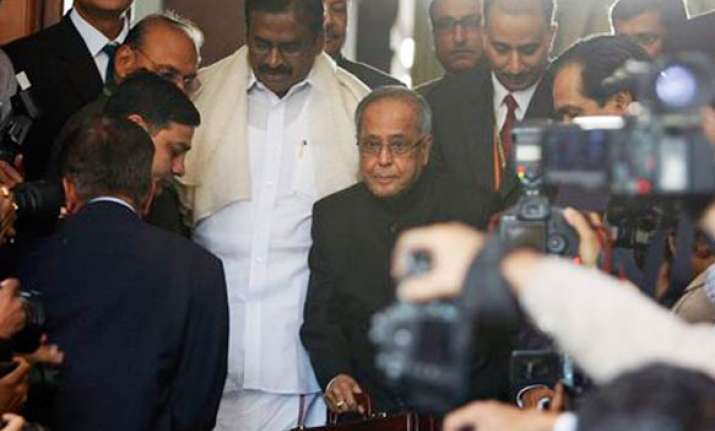 New Delhi, Feb 28: Finance Minister Pranab Mukherjee today announced higher tax exemption limit of Rs 1.8 lakh for individuals and further benefits to senior citizens, roped in additional services into the tax net and withdrew  duty exemption on some items.
Other major proposals included bank licences to new private sector players, speeding up of various financial sector reform bills and a disinvestment target of Rs 40,000 crore for the next fiscal.
Here are some of the major announcements:
-Tax exemption limit raised to Rs 1.80 lakh, from Rs 1.60 lakh, for general category individual tax papers.
-For senior citizens, the qualifying age reduced to 60 years; tax exemption limit raised to Rs 2.50 lakh.
-Over 80-year old senior citizens to get Rs 5 lakh exemption limit.
-Tax surcharge for companies cut to 5 per cent, from 7.5 per cent.
-Deduction of Rs 20,000 from taxable income for investment in long-term infra bonds extended till next fiscal.
-A simpler I-T return form 'Sugam' for small tax papers.
-Housing loan limit raised from Rs 20 lakh to Rs 25 lakh from priority sector lending; 1 per cent interest rate subsidy for home loans up to Rs 15 lakh.
-Service tax, peak customer duty rates retained at 10 per cent; duty exemptions to be withdrawn on various items.
-Total expenditure estimated at Rs 12,57,729 crore for the current fiscal; gross tax receipts at over Rs 9.3 lakh crore.
-Fiscal deficit target at 4.6 per cent for 2011-12, down from 5.1 per cent estimated for current fiscal.
-Disinvestment target for the next fiscal at Rs 40,000 crore. Proceeds for the current fiscal at 22,144 crore.
-RBI final guidelines for issuing new bank licences to private players by March-end;Bill for amendments this session.
-Financial sector reforms to move forward.
-Bills on Insurance amendment,LIC and Pension Development Authority, Banking Laws amendment, SBI subsidiaries and BIFR in the current session.
-Financial Sector Legislative Reforms Commission, to be headed by former Supreme Court judge B Srikrishna, to complete its work in 24 months; to overhaul financial regulations.
-New Companies Bill to be introduced in current session.
-Discussions on to further liberalise FDI policy.
-Govt to move towards direct transfer of cash subsidy for kerosene, LPG and fertilisers.
-Constitution Amendment Bill for introduction of GST regime in this session.
-Direct Tax Code Bill likely to be passed by Parliament next financial year.
-Foreign investors to be allowed to directly invest in MFs; Investment limit for FIIs in corporate bonds to go up.
-A new scheme to be introduced for refund of service tax on lines of drawback of duties.
-A self-assessment of customs duty to be introduced for importers and exporters to enable them to assess duty payment.
-Remuneration of anganwadi workers raised from Rs 1,500 to Rs 3,000 a month. Helpers to get Rs 1,500 from Rs 750.
-Old age pension to persons over 80 years raised from Rs 200 to Rs 500.
-Compensation of Rs 9 lakh to be given to defence and Central paramilitary forces for permanent disability and discharge from service.
-Net loss from direct tax proposals at Rs 11,500 crore.
-Excise, customs duty proposals to provide net gain of Rs 7,300 crore; revenue gain of Rs 4,000 crore from service tax.
-Net revenue loss on account of taxes and duties will be Rs 200 crore for the year.
-Standard rate of central exercise duty maintained at 10 per cent; no change in CENVAT rates.
-Nominal 1 per cent central excise duty on 130 items entering the tax net. Basic food and fuel and precious stones, gold and silver jewellery will be exempted.
-Basic customs duty on agricultural machinery reduced to 4.5 per cent from 5 per cent.
-Service tax net widened to cover hotel accommodation above Rs 1,000 per day, A/C restaurants serving liquor, some category of hospitals, diagnostic tests.
-Service tax on air travel up to Rs 50 for domestic travel and Rs 250 for international travel in economy class;on higher classes, it will be 10 per cent flat.
-Some legal services to be brought under service tax net; service by individual to another individual exempted.
-Services provided by life insurance companies in the area of investment are also proposed to be brought into tax net, on the same lines as ULIPs.
-Government to put in place framework for safeguard of small borrowers in microfinance sector.
-Corruption, inflation and current account deficits identified as major areas of concern.
-PSU banks to get Rs 6,000 crore for maintaining capital-to-risk asset ratio norms.
-To give Rs 300 crore for promoting pulses cultivation in rain-fed areas; another Rs 300 crore to promote farm product cultivation.
-Credit flows to farmers raised from Rs 3.75 lakh crore to Rs 4.75 lakh crore.
-Existing interest subvention scheme on short term farm loans at 7 per cent interest to continue.
-Public Debt Management Agency Bill in the next fiscal.
-A bill to be introduced to amend Indian Stamps Act. PTI
Please click to read Pranab Mukherjee's full Budget speech