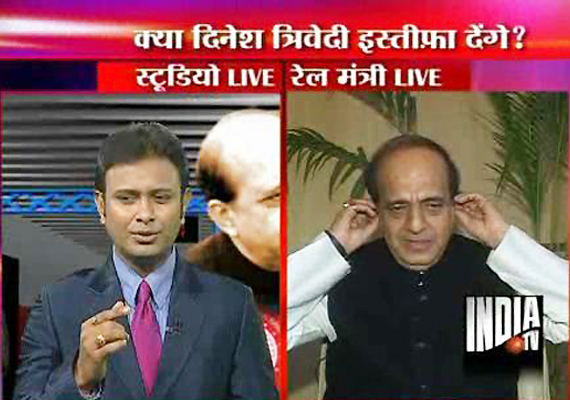 New Delhi, Mar 14: Railway Minister Dinesh Trivedi today abruptly cut short his interview with India TV when he was questioned about fare hike roll back and party chief Mamata Banerjee's anger over the issue.  

Trivedi on India TV stuck to his guns saying he has done his duty and was not worried about the consequences.

Asserting that his budget was an economic budget and not a political one, the Minister said that he did not want the railways to go the Air India way.

He also stated that he had not consulted Banerjee on the budget, Trivedi said it was a very big misconception that Railways is run from Writers Building, the headquarters of the West Bengal government in Kolkata.

Asked to react on Banerjee's statement at a public meeting in Nandigram where she said she would not allow the hike in fares which Trivedi proposed in a bid to raise Rs.4,000 crore mainly for railway safety measures, Trivedi thanked India TV and left the interview in-between.