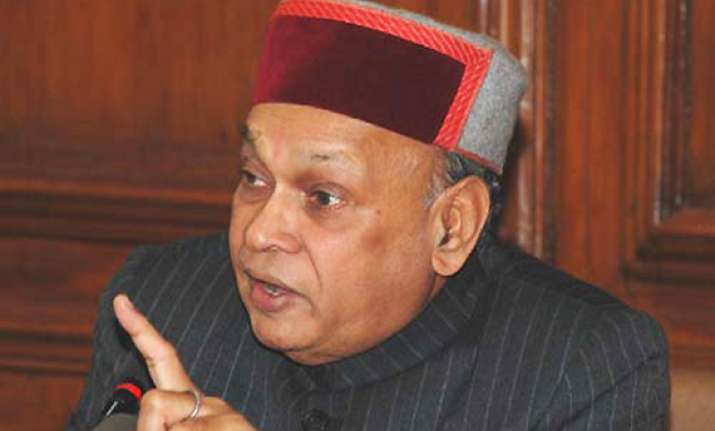 New Delhi, Apr 15:
Himachal Pradesh Chief Minister Prem Kumar Dhumal today threatened to file a defamation suit if the Army does not tender an unconditional apology for its statement that questioned the campaign demanding handing over of Annandale ground.
At a hurriedly called press conference here, Dhumal termed as "baseless" the allegations of land grab in connection with Annandale ground.
"The ground factually belongs to the government of Himachal Pradesh and is under unlawful occupation of the army.  The Durand Cup (football) started from this ground in the 19th Century. It was given on lease of ten years to the army which was extended. But for the last 30 years the lease has not been renewed," Dhumal said.
He demanded an unconditional apology from the Western Command failing which he would file a defamation suit.
Asked if he was willing to talk to the army on the issue, he said "yes but only after an apology is tendered".
Dhumal said his secretary had received a call from the Lieutenand Gen of the Western Command that the army wanted to discuss the matter.
He refuted charges that he wanted to take away the ground as his son and MP Anurag Thakur wished to build a cricket stadium there.
"14 Associations have come to me to demand that the army vacate the land but cricket association has made no request. Army is only using the ground to play golf," he said.
Dhumal further maintained that the Himachal Pradesh government had offered alternate land to the army at Ghandal, about 25 km away from Annandale ground.
He said the issue had been sorted out during NDA rule when the then Defence Minister George Fernandes and senior army officials had agreed that the ground- located in Shimla-could be returned to the Himachal government.
"We gave the army an alternate site but after nine years they said the land does not suit us," Dhumal said.
He rued that this was a personal attack and insisted he would not bear it silently.
"I have told my advocate to file a defamation case on my behalf. I will also raise this issue with the Prime Minister and the Defence Minister at the internal security conference tomorrow," Dhumal said.
Asked why he did not want to hand over this ground to the army, Dhumal said tourism has suffered as the army does not allow air taxis to fly in the area. He denied that this ground was strategically important for the army as the China border is not very far off from here.
Army should be active on the China border and check intrusions by the Chinese army, he maintained.
The Chief Minister said the army's charges against him were "false, baseless and misleading" and demanded that the latter prove how he had links with the forest mafia.