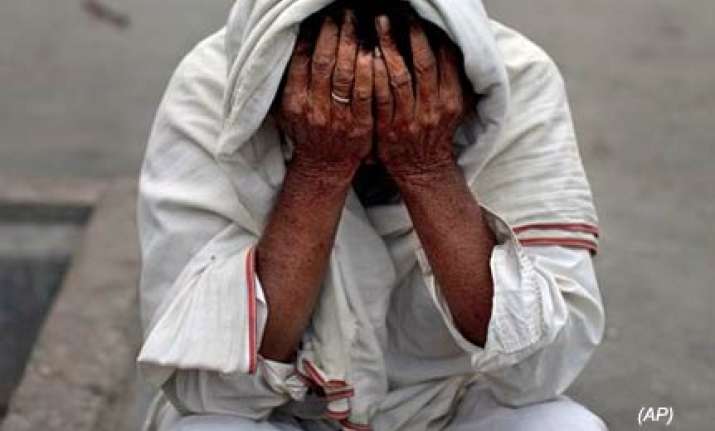 New Delhi, Nov 16: "This is her" wailed Sheetal, 23, as she identified her four-year old daughter among the photographs of dead put up at the capital's LNJP hospital where majority of the victims of last evening's building collapse had been brought.
Her husband, however, still unsure, peered closely at the photographs and as he identified his child after sometime a similar cry came out from him.
Sheetal and her husband, poor Bengali migrant labourers, already have their parents admitted to the hospital in a critical condition.
Of the 39 dead, till now, only one has been identified officially.
The scenes were similar in the Lal Bahadur Shastri hospital where of the 39 who had been admitted, 15 were brought dead and five have been shifted to the Guru Tek Bahadur hospital in a critical condition.
A 14-year old Shibu, looked around helplessly with his two younger brothers, having lost his parents and sister.
The body of his grandmother and uncle were yet to be found.
In Lalita Park, Ten-year-old Shibu and his brother Sachi do not know whether to call themselves lucky or not?
The two brothers along with their 7-year-old cousin were playing in the park when the five-storey building collapsed near it here last night leaving all their family members dead.
The children are not ware that their parents are no more and spent the night with her grandmother, who came rushing to the spot after hearing about the news.
"My entire family is gone. My son, daughter-in-law, my husband and two grand daughters are no more. They were all inside the building when it collapsed," 40-year-old Yamuna said as she struggles to make the children eat something.
The three, who were playing hide and seek, when the incident took place, came running towards the building along with many others after hearing a loud noise.
Yamuna, who lives with her husband in a nearby area, said her husband had come to meet his son and his family in the evening.
"He came in the evening and since the children insisted he stayed back. The house in which my son was living had two rooms," she says with tears rolling down her eyes.
Shibu and Sachi have not been told about the death of their parents and sisters, but their grim faces indicated that they had an inkling of what had happened.
"There was nothing when we came," Shibu says as his grandmother tells cameramen not to take shots of her grandsons.
Yamuna says she has not yet gone to the hospital to see the bodies of her family members.
"All have died.... They are in hospital... What do I do now? There is no one to take care of me. How do I bring up these children," Yamuna asks.
Shibu and his brothers managed to survive as they were playing outside the building.
40-year-old Deepali Haldar does not know the fate of her husband, two sons and two daughters.
"I don't think they are alive now. The incident is such. All I could see after coming from my work was just heaps of rubble. Only stones and stones.... nothing was left," she said in a choked voice as neighbours and relatives comfort her.
"I had been out at that time so I escaped. Now I feel why did I go out. If I had been inside the building I would have also died," Haldar, who works as a housemaid, said.
At the Park, where some of the people are now lodged, people were seen distributing breakfast, water and juice to the people who were rescued from the debris.
Twenty-year old Niranajan too doesn't have a clue of what to do with one and a half-year old Tina, who he picked up from outside the building last night.
Neighbours told him that the little girl, who has already lost her father earlier, has now probably lost her mother as well in the disaster.
Tina, in a state of shock with a fracture in her right hand, could only utter her name.
For Vaishali, who resides in Haryana's Faridabad, today's morning came as a shock when she heard about the collapse of the building, where her aunt and her two children have been staying.
Vaishali took the next bus to the capital where she went from one hospital to another in search of her relatives but she was unlucky.
"They were staying in the third floor. Two of her children worked in the ice-cream factory operating from the same building. I could not locate her," she said.
Dileep Kumar Haldar came searching for his elder sister Vandana and her family who were staying in one of the top floors of the building.
Clothes, simple utensils and non-descriptive furniture -- articles stumbled upon by rescue workers at the building collapse site in east Delhi said it all about the lives of the unfortunate residents.
The utensils like steel tumblers, tin plates and aluminium bowls came in handy for rescue workers as they used them to take the debris out. The four-storeyed building came crashing down in Lalita Park area in Laxmi Nagar last night killing scores of people.
Broken suace pans and small pressure cookers were recovered from the building.
The residents of the ill-fated building were mostly labourers, either working in the factories inside the same building, or domestic helps besides rickshaw pullers and masons.
Some cycles were also recovered from tonnes of concrete debris, which rescue workers found it hard to break and remove. Ambulances with their beaming sirens went out of the spot whenever a body was found.
Earthmovers removed mounts of debris after rescue workers broke huge concrete slabs.
The spirit of workers were so high that an announcement made in public address system that those working since last night make way for a fresh batch so that they can take rest.  PTI