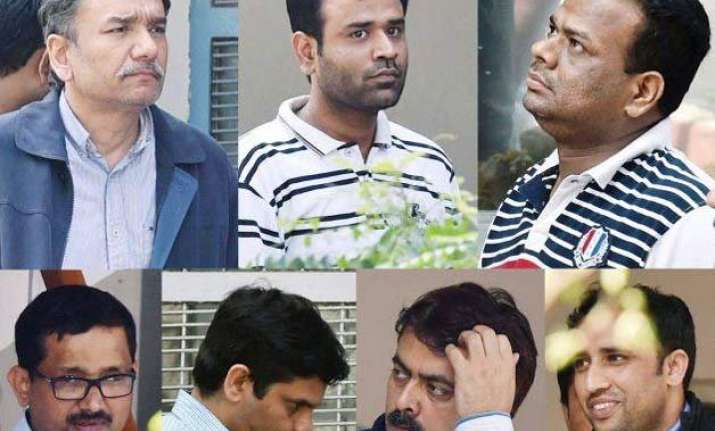 The shocking corporate espionage scandal has got murkier with the arrest of senior executives of India's top private energy companies - Reliance Industries, Essar, Cairns India, ADAG Reliance and Jubilant Energy. The arrest of junior-level employees could mean serious trouble for senior colleagues of these majors, including their board members, who security agencies suspect to be part of the corporate spying nexus.
As part of the operation, intelligence agencies had put several phones on surveillance and the intercepts are being analysed now to get further leads. Reports suggest that many phone intercepts include conversations of senior officers with middlemen.
READ ALSO: Corporate espionage: It's a Rs 10,000 crore scam, says arrested scribe Santanu Saikia
A report published in The Times of India said investigators are preparing to summon these senior company officials to join the probe on the basis of evidence and disclosures made by those arrested.
Investigators said evidence and interrogations indicated that some firms hired people with "good contacts" specifically for this so that information could be accessed easily and before others got to know.
Crime Branch sources say these companies were "direct beneficiaries" of the leaked documents. They got to know policy decisions much earlier and hence the first-mover advantage, thus compromising national security," an officer said.
ALSO READ: Corporate Espionage: NSA Ajit Doval had cautioned ministers against leakage of documents
The investigators said they were looking at espionage between February 2014 and February 2015 and will sift through call records of the arrested to ascertain the identity of people they were in touch with. Sources said investigators were zeroing in on officials who went on foreign junkets last year and are studying their bank transactions for leads.
The Intelligence Bureau (IB) is on the trail to crack the syndicate that has spread across the entire government machinery. Besides the petroleum ministry staff, officials of other ministries such as power, coal and finance are also under scanner.
The Delhi Police busted the corporate spying ring in the petroleum ministry after being alerted by the IB. The police caught Rakesh Kumar, 30, Lalta Prasad, 36 - both brothers and residents of Delhi, and Raj Kumar Chaubey, 39, a resident of Ghaziabad in Uttar Pradesh, red-handed with photocopies of some secret documents in Shastri Bhawan on February 17. Based on information provided by them, government employees Asharam, 58, and Ishwar Singh, 56 were also arrested. They were part of the multi-tasking staff (MTS) in Shastri Bhawan.
ALSO READ: Corporate Espionage: Suspects confess passing 'secret' documents to seniors & business houses
Two energy consultants -- Santanu Saikia, a former journalist, now running a web portal and Prayas Jain – were also arrested as they were also suspected to be receivers of the stolen documents.
A report by the Times of India suggests that Subhash Chandra, one of the five corporate executives arrested, worked as a typist with the under secretary's PA at the ministry, earning a monthly salary of Rs 8,000. However, he quit in 2011, and joined Jubilant Energy as a senior executive the next year, with a monthly salary of Rs 1.5 lakh.
Sailesh Saxena of Reliance Industries, police said, got documents of national importance filched and passed them on to seniors. They said other ministry employees too were under the scanner. They have identified Lokesh, another multi-tasking employee, in the racket. But he's absconding.
The police are still questioning several people, including ministry employees, energy and gas consultants and corporate officials and say that more arrests are possible.
Windfall gains by corporate or attempts made by them to influence policy decision are also being probed. We are looking at the extent of the benefit the corporates got through this operation, the Delhi police has said.
Union Home Minister Rajnath Singh said on Saturday that those involved in the sensational corporate espionage scandal would not be spared and strictest punishment would be given to them. "No guilty person would be spared and strictest punishment would be given to them," he said.
ALSO READ: Corporate Espionage: The nexus that operated to trade information
The home minister also did not rule out a nexus between middlemen and some government officials in the espionage case and indicated expanding the probe to other ministries. "It is possible. I am not ruling out any possibility. The Delhi Police are investigating the whole issue. I think the issue will come to light very soon," he said replying to a question on involvement of middlemen. "But it is certain that such things have been going on for a long time and that is why the situation has reached such a stage," Singh added.
Petroleum Minister Dharmendra Pradhan also said the guilty will be brought to book. "Nobody is above the law. Nobody will be spared. Law will take its own course," he said on Saturday.
The Delhi police say that they are also probing to find out if files in the Defence ministry too had gone missing.