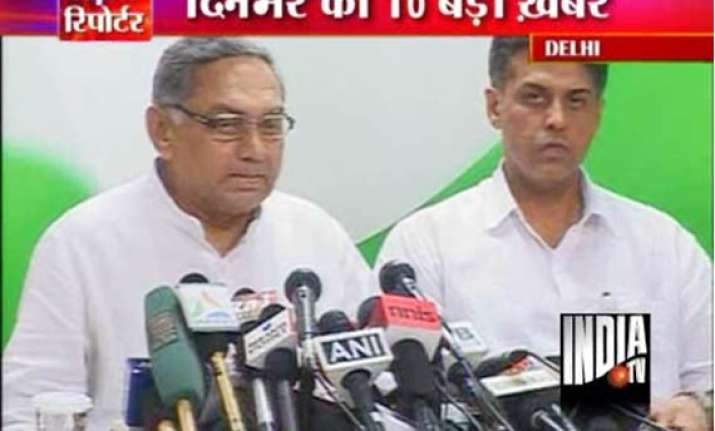 New Delhi, June 6: The Congress  on Monday  lashed out at  yoga guru Swami Ramdev  saying that the "so-called saint" is acting as a "mask" for the RSS-BJP saffron brigade.

"He (Ramdev) is only a mask for  RSS-BJP," party general secretary Janardan Dwivedi said at a party press briefing here minutes before  a man posing as a journalist tried to throw a shoe at him.

Dwivedi said, the so-called saint's satyagraha cannot be compared to the satyagraha of Gandhiji, because "satyagrahis never sneaks out wearing a female attire, nor are they afraid of death. Gandhiji never said he was afraid of the British".

Dwivedi attacked those who were trying to compare the police action in Delhi with that of Jallianwala Bagh massacre. Because of that massacre, he said, Rabindranath Tagore returned his knighthood and it is shameful to compare the British barabaric atrocities with the Delhi police action.

Dwivedi also took a pot shot at  BJP for  sitting on dharna at Rajghat, while representing, what he called an ideology that  led to Gandhiji's assassination. "Because of this pernicious ideology,  the Rajghat had to be built before time", he said.

"Gandhi-ji wanted to live 125 years, Rajghat had to be constructed much later. The ideology because of which Rajghat had to be constructed before time... people supporting that ideology are sitting there on fast," he said.

He  alleged that  some BJP leaders were seen dancing at Rajghat during the dharna. "And what a fast, the leader of opposition (in the Lok Sabha Sushma Swaraj) is dancing with her companions. What is the seriousness, why are they celebrating?" he said.

"Those who are backing Ramdev did not even had anything to do with satyagrah, not even the struggle for independence," Dwivedi added.