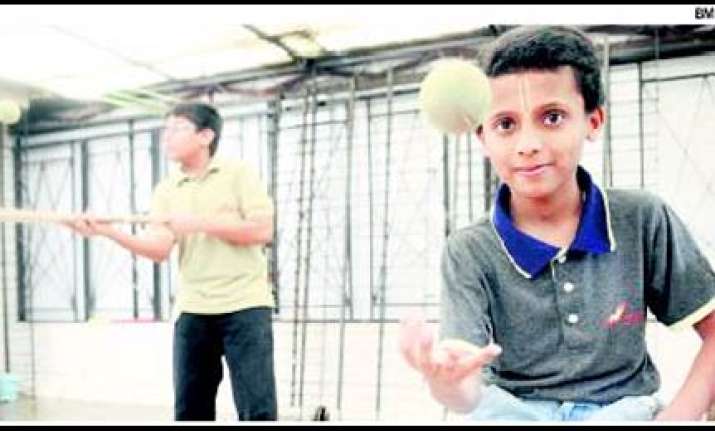 At 13 and 11 years of age respectively, Neel Joshi and his brother Deep are set to become the youngest MBAs in India, says a Mumbai Mirror report.  
While Neel has cleared his first year in finance management with 91 per cent marks, Deep has cleared the first semester of MBA in operation management by securing 75 per cent (through distance learning).  
The class eight and class six students of Thakur Vidya Mandir School, Kandivali East, are studying at the Indian Management School and Research Centre (IMSR) affiliated to the University of Northeast Virginia.  
If things go according to plan, the brothers will get their MBA degrees well before clearing their class 10 exams, says the report.
"We had sought admission for MBA courses at the University of Mumbai and various other US and UK institutes," recounts Neel. "But everyone turned us down saying we were too young for management courses." 
It was a meeting with the representative of IMSR at an education fair, which helped them realise their dreams.  
"I had taken a risk in admitting the boys against all rules," admits Dr Pravin Parmar, director of IMSR. "I remember meeting them at a Nashik education fair. They told us they wished to join our institute. We thought it was a joke. But they were firm."  
Parmar further added, "There some who believed these boys would damage our institute's reputation. But they proved their detractors wrong."  
Neel has just completed a project with the Air India's accounting and finance department.  
Bindumadhav Katti, assistant manager finance department and offshore accounting, Air India, who trained and guided Neel said, "I interviewed him with 20 other students from different MBA institutes in Mumbai. When it came to theoretical knowledge, Neel was almost on par with the best."  
Neel's project was on the functioning of the 18 sections of Air India's finance department.  
"I can't comment on his field knowledge but he is an intelligent boy," says Katti.  
As kids, the brothers could recite entire chapters from the Bhagvad Gita, Hanuman Chalisa and Rig Veda. Later they caught on to carrom and now represent Air India at National events, competing with players twice their age.  
"I have seen my sons trying extraordinary things at a very young age. So I am not surprised at their achievements," said their mother Meena Joshi.  
"They often tell me that our education system is too time consuming. We will support them in whatever they want to do in the future," she said.     
Neel wants to become a cardiac surgeon, while Deep wishes to be a pilot.  
 "I believe all students my age or younger should be given a chance if they wish to do something meant for older boys. Age should never be a barrier." Deep added, "We dream of getting a prize from the President after completing the course."  
However, the boys have had their share of detractors who argue they are perhaps not treating the MBA studies with the right kind of gravitas.
Arks Srinivas, director, T.I.M.E, dismissed this as a publicity stunt, "They may have mugged up the answers and cracked the exams but MBA is about understanding the market. What is the purpose of them doing an MBA when nobody will hire them at this age?"  
Said Dr Debashish Sanyal, Dean, School of Business management NMIMS. "They may be child prodigies but MBA programme at the age of 11 and 13 is difficult to digest! Besides, the questions are quite elementary. Any student their age with more than average IQ will be able to answer them."  
Parmar was more optimistic, "Such kids need our unstinted support. Sadly, our education system does not encourage young geniuses."