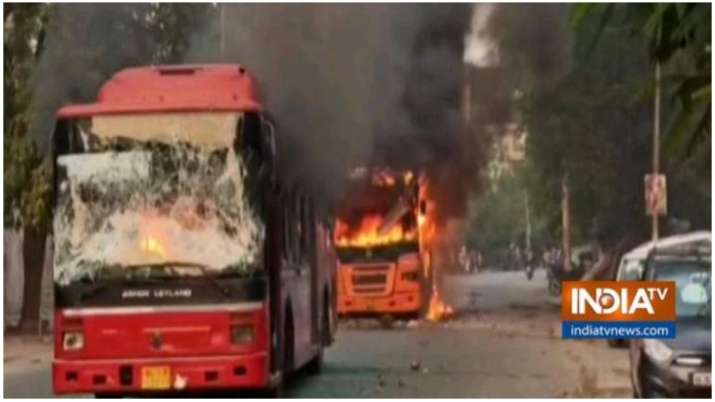 Anti-Citizenship Bill protests being held by students of Jamia Millia University in New Delhi assumed violent tones as several buses were set on fire on Mathura Road near the University. As protests turned violent, police resorted to lathicharge and hurled tear gas shells at the protesters. The police have stopped traffic on Mathura Road as a precaution. Reportedly, stones were hurled at the police during the protests. It was reported that 'unknown masked individuals' entered the protesting crowd.
A Delhi Fire Services official said four fire tenders were rushed to the spot.
One fire tender was completely damaged and two personnel were injured in the violence by the protesters.
Protest is fine but this can't be justified.#CABPolitics pic.twitter.com/fJJWvutrBq

— Himanshu Shekhar (@HimaanshuS) December 15, 2019
Saimon Farooqui, the national secretary of Congress-affiliated National Students' Union of India, claimed the protesters were peacefully sitting on Mathura Road when policemen tried to "trouble" a couple of them, who resisted.
A Jamia Millia Islamia students' group said they had nothing to do with the arson and violence. They alleged that "local elements" joined the protest and "disrupted" it.
Our students not involved, says Jamia Millia Islamia University
Jamia Millia Islamia University has issued a statement saying that its students were not involved in violence that took place today. 
"A large number of students staying in hostels have already left and the Vice-Chancellor Najma Akhtar appealed to the students to maintain peace," Jamia said in a statement.
Police beat up students and staff, says Jamia University Chief Proctor
Waseem Ahmed Khan, Chief Proctor of Jamia Millia Islamia claimed that staff and students of the university were beaten up by the police. He said that the police entered campus by force without any permission given by the university.
Effect on traffic
In light of the protests, vehicular movement was stopped from Okhla Underpass to Sarita Vihar. 
Delhi Metro closed entry and exit gates of Sukhdev Vihar metro station along with gate no. 3 of Ashram station. Metro trains were not halting at Sukhdev Vihar station.
Students of Jamia Millia Islamia University have been protesting against passage of Citizenship (Amendment) Act for last several days. The protests have affected the academic activities in the university. Jamia Millia Islamia University has cancelled exams and declared a vacation till January 5.
(With PTI inputs)
Also Read | CAA row: Jamia University declares winter vacation after protest
Massive protests at Jamia Millia Islamia University | Chakravyuh | December 15, 2019