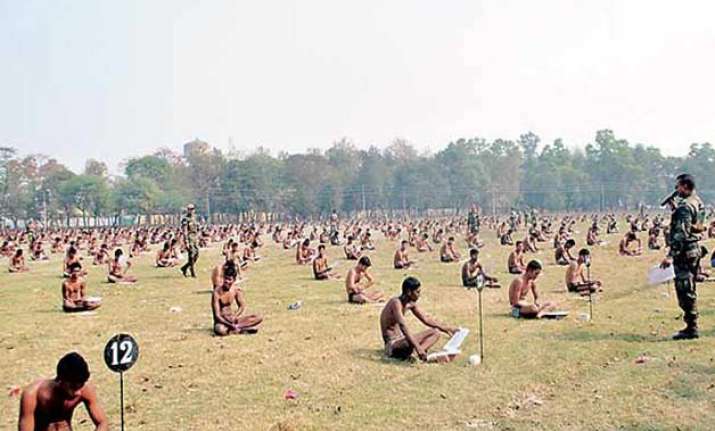 Patna: Candidates appearing for a recruitment exam to hire clerks in the Indian Army were in for a rude shock when they were asked to write their papers sitting in their bare minimum. Candidates appearing for the examination were asked to sit in their underwear in Bihar's Muzaffarpur district while giving their exams.
The move, as was expected, kicked off a huge storm prompting the Defence ministry into action. Sources said Defence minister Manohar Parrikar has already sought an enquiry report from Army Chief Dalbir Singh on the matter.
Besides the government, the judiciary has also not taken to this move, which the Army claimed had been taken to deter candidates from cheating. The Patna high court on Tuesday also sought a reply from Defence Secretary RK Mathur and posted the matter for hearing for April 5.
The incident took place on Sunday when around 1,150 candidates appeared for the exam were ordered to sit in their underwear. The step was taken to ensure that the candidates could not indulge in unfair means or cheating in the examination.
Unmoved by the criticism and ridicule that the move has evoked, the Director of Army Recruitment defended the outrageous order. "We earlier had a bad experience while conducting exams. This has been done to avoid cheating," he said.
One of the candidates appearing for the exam told The Indian Express that they were asked to remove their clothes when they reached to the ground for the exam and that it was an embarrassing but unavoidable circumstance. "We had no other option but to follow the instructions though it was odd for all the candidates," he said.
Pictures of people dangerously clinging to classroom walls and windows across school buildings in Bihar in order to help kids cheat were splashed across both national and international media last year. Nearly 300 people were arrested for cheating by using unfair means in matriculation examinations.
Even Bihar chief minister Nitish Kumar admitted that reports of cheating where visuals of people climbing the three to four-storied school buildings made embarrassing headlines. The latest development from the state does not bode any better either.