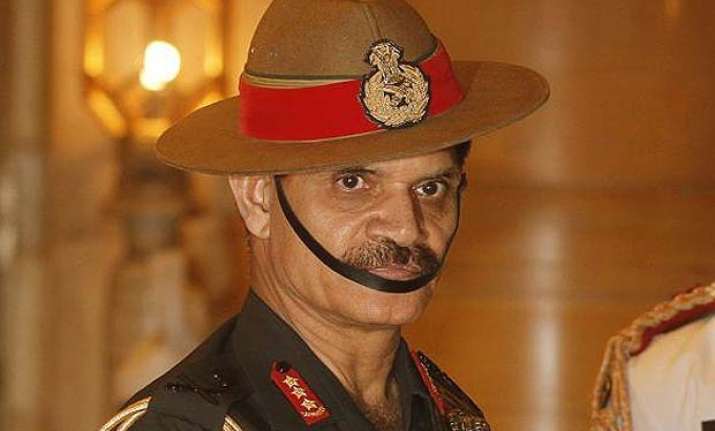 New Delhi: Indian Army Chief General Dalbir Singh on Sunday said teams were being sent to assess the situation in quake-hit Nepal, and "whatever is needed will be done".
The army chief, who himself belongs to the 5th Gorkha Rifles, one of the six infantry regiments in the Indian Army which comprise of recruits from Nepal, told IANS that several steps were being taken.
Gen. Dalbir Singh, who is also an honorary general of the Nepalese Army, spoke to his Nepalese counterpart, General S.J.B. Rana, soon after the devastating earthquake.
Two senior Indian Army officers were immediately asked to proceed to Kathmandu and coordinate the army's relief efforts in synergy and hand-in-hand with the Nepalese Army. They are presently involved in reconnaissance of affected areas and road conditions.
"There are a large number of ex-servicemen living in Nepal. We are specially concerned, given the deep ties with Nepal," Gen. Dalbir Singh told IANS.
"We are sending teams to assess the situation, whatever is needed will be done," he said.
Defence Minister Manohar Parrikar also said on Sunday that the Indian Army will launch long term operations there to reach out to the large number of ex-servicemen living in Nepal.
He said there were 1.6 lakh ex-servicemen living in Nepal. "Army has good connection with Nepal... they will be doing long term operations."
The army has, meanwhile, earmarked 18 medical teams, six of which have reached Nepal and have been deployed, while the rest are on standby.
Five Advanced Light Helicopter (ALH) and two Cheetah helicopters have been sent to Gorakhpur in eastern Uttar Pradesh, close to Nepal border.
A statement from the army said: "We are working along with our Gurkha Ex Servicemen interface for guidance, relief and rescue."