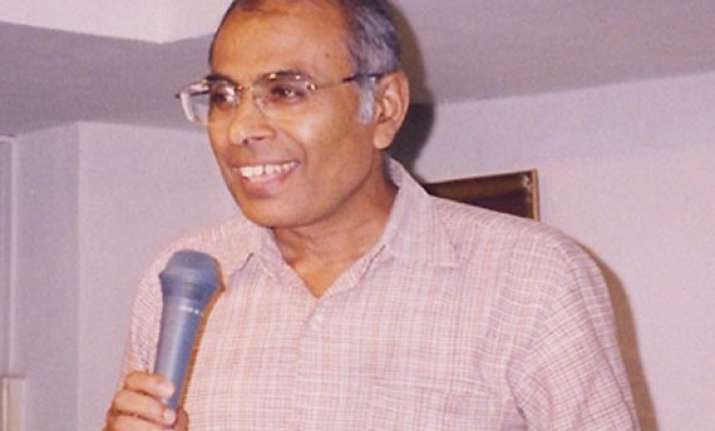 Pune: The usually calm atmosphere of Pune was shattered this morning when two youths on a motorbike fired four rounds at anti-superstition activist Narendra Dabholkar during his morning walk, killing him on the spot.
Dabholkar had been getting veiled threats from godmen and their supporters for exposing them through his Andha Shraddha Nirmoolan Samiti in Maharashtra.
Dabholkar had returned from Mumbai to Pune last evening, and was taking his  morning walk at Bal Gandharva complex today, when the two assailants fired at him, with two bullets lodged in his head and one in his back. 
The firing took place at 7:18 am as Dabholkar was walking from Maharshi Shinde bridge towards Onkareshwar temple and Bal Gandharva temple.
The assailants fled on their Splendour motorbike, the digits 7756 noted down by early morning walkers.  
The assailants were in the 20-25 age group, with the youth driving the bike wearing a cap, and the pillion rider carrying a bag on his back.
Police was informed at 7:30 am, and arrived at the spot after 10 minutes. He was taken to Sassoon Hospital at 7:45 am where doctors declared him dead.
At 9 am, his relatives were informed and an hour later, the body was sent for post-mortem.
Police found a Dadar-Pune train ticket, his I-card, a cheque for Andha Shraddha Nirmoolan Samiti inside the wallet on his person.
Dabholkar's murder is considered a setback to the progressive movement in Maharashtra.
Known for his over two-decade long campaign against outdated and inhuman social practices, 69-year-old Dabholkar was currently engaged in mobilising public opinion and holding discussions with Maharashtra government for passing an 'anti-superstition and black magic' law in the state legislature, opposed by certain sections of the society, including the Warkari sect.
The murder took place on the bridge near Omkareshwar Temple in the city in the vicinity of 'Sadhana' magazine, which Dabholkar edited to propagate progressive thought to change social mindset.
Police said Dabholkar, who lay in a pool of blood on the bridge, was identified by a photo in his wallet and a cheque in the name of the Andhashraddha Nirmulan Samiti (ANS). He was taken to Sassoon Hospital where he succumbed to injuries.
For Dabholkar, who hailed from Satara, spreading scientific temper and eradicating superstitions and undesirable rituals in the society was a lifelong mission which he  carried with zest and rational thought, notwithstanding resistance from retrograde elements.
Maharashtra Home Minister R R Patil, expressing shock and grief, said he had instructed top police officials to get to the bottom of the reprehensible act and book the culprits using all their "investigative skills". Patil said, the case has been handed over to Crime Branch.
Pune Police Commissioner Gulabrao Pol said the motive behind the murder was being investigated.
Prominent political leaders and social activists from the state including Union minister and NCP president Sharad Pawar condemned the killing of Dabholkar, describing him as a dedicated, selfless social activist who was committed to promote progressive thinking.
"The progressive thought for which Dabholkar gave his life, will not die in Maharashtra," Pawar said.
A pall of gloom descended on neighbouring Satara from where Dabholkar hailed as the news of his death spread.
Chief Minister Prithviraj Chavan condemned the killing and announced a reward of Rs ten lakh to person giving information about the culprits who murdered Dabholkar.
Pune police have detained two persons for questioning.